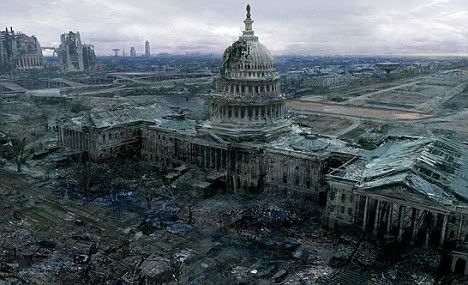 Here is the U.S. Capitol in Washington, D.C. If you look carefully, you will notice some differences from the standard picture postcard view.
According to the
Daily Mail
, "This is the apocalyptic scene terrorists hope to create if they ever get their hands on a nuclear bomb. The computer-generated image below was posted on an Islamic extremists' website yesterday."
There are of course reasons not to take it seriously, if you don't want to.
It's journalistic sensationalism, intended to stoke readership.
True.
It would be very hard to transport, assemble, and detonate a nuke that could do this.
True again.
It's a madman's fantasy.
Yes, the Muslim jihadist's version of a skin-magazine centerfold. And so on.
The FBI was quick to point out that it had not issued any warning and that the video was not an official Al Qaeda release through its media arm, Al Sahab, but simply an ' amateur' collection of old footage spliced together and posted on the Internet. U.S. analysts said a lot of effort had been put into the video - entitled Nuclear Jihad, The Ultimate Terror - with graphics, music, and clips of different leaders and groups.




The same expertise seems to have gone into creating this image of a devastated Washington.


Al Sahab puts out more than 80 'officially sanctioned' videos a year to keep up the propaganda on the West. And the Internet shows how easy it is to stir up militancy. One message with the Washington picture said: 'The next strike's in the heart of America. When? When? When? And How?'
Despite the relative ease of computer graphics, someone spent considerable time and effort to create this imaginary scene of a devastated Washington. (To see the picture in all its loving detail, click to enlarge it on the

Daily Mail

site.) Without a doubt, there are people (very likely in the United States) who relish the idea. And who would love to make it happen.

So what's the point? We've known this for seven years, come September.

The point is this. I've made it before, but I think it bears repeating.

The United States government says, "
Islam is one of the fastest-growing religions in the United States today.

According to one recent survey, there are 1,209 mosques in America, well over half founded in the last 20 years." The

New York Times

reports,

"
In 2005, more people from Muslim countries became legal permanent U.S. residents — nearly 96,000 — than in any year in the previous two decades. More than 40,000 of them were admitted last year, the highest annual number since the terrorist attacks, according to data on 22 countries provided by the Department of Homeland Security."
Right, so we're bringing in 100,000 Muslims a year, in round figures. The great majority of them would have nothing to do with nuking Washington or anything similar. They are perfectly willing to wait 30 or 40 years for their high birth rate and demographics to bring the Caliphate and shari'a law in peacefully. Let's be generous and say that no more than 1 percent of Muslims admitted permanently to the United States are violent jihadists. Only 1,000 a year, ready to use all their ingenuity and fanaticism to produce something like the scene pictured above.
So we have basically two choices. We can trust to luck — yes,

luck

— and hope that those 1,000 a year all get frustrated and give up, or are all detected in time and prevented from carrying out their mission, or fail at it.

The other option is to allow no Muslim immigration. Zero. Not even allow Muslims to
visit
the United States except for a handful who have been vetted six ways from Sunday.
That's unfair to the other 99 percent of Muslim would-be immigrants? Yes, if you don't mind the country eventually being under shari'a law, like Britain in a few more years. Yes, if you believe that anyone on earth has a "right" to colonize the United States.
If that is what you believe, then damn you, and I hope you are standing at Ground Zero if the kind of people who created the vision of a skeletal Washington pull it off.

UPDATE 5/31

According to another report, the image of a blasted Washington was taken from a computer game (which strikes me as a rather sick production). If true, you can strike from the above posting the picture of a jihadweasel toiling away in a dark room to paint with pixels his dream of the Great Satan humbled. The

Daily Mail

has not changed its story about the webcasting of the image on a militant Muslim site.