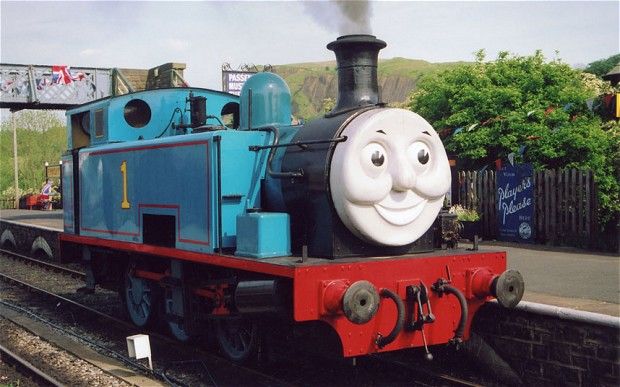 Thomas the Tank Engine. Hideously male,
Once a country goes Hard Left, there are no limits to the possibilities for lunacy. Britain is not yet executing political prisoners for thought crimes, but the Labour opposition transport secretary is aghast that there are not enough women engines and drivers in the children's books and TV series featuring Thomas the Tank Engine.
Thomas the Tank Engine is setting a poor example to children and needs more female engines to encourage girls to become train drivers, Labour's shadow transport secretary has said. Mary Creagh described the lack of female train drivers in Britain as a "national scandal" and said that children's television shows and "negative stereotypes" are partly to blame.
Not, you understand, that the U.K. has laws prohibiting women from working as railroad engineers. Nor specifying that all engines must be masculine in appearance. (How would a female engine be indicated? Eye shadow? Earrings dangling on the boiler? High [w]heels?)
Aslef, the train drivers union, is campaigning for more women and ethnic minority train drivers. Just 1,000 women, equivalent to about 4.2 per cent, of train drivers are women. Mike Whelan, the union's general secretary, said: "These figures show that there is plainly something wrong in this era of professed quality [sic]".
For authoritarians like Mary Creagh, it's the government's job to enforce equality, regardless of individuals' choice of work. Sounds familiar, what? Not enough welders in Petropavlovsk? Round up some bookkeepers in Moscow and put 'em on the next train -- with a woman in charge, of course.
I suggest Creagh turn her attention to department store perfume and cosmetic counters. She would doubtless discover -- well, except in London maybe -- an acute shortage of men salespersons. What kind of message does that send to young boypersons dreaming of swimming the English Chanel at Selfridges?