A calligraphic robot has been programmed to create a "hand"-lettered Bible, similar to those in pre-Gutenberg times. (Tip of the hat: Ministry of Type)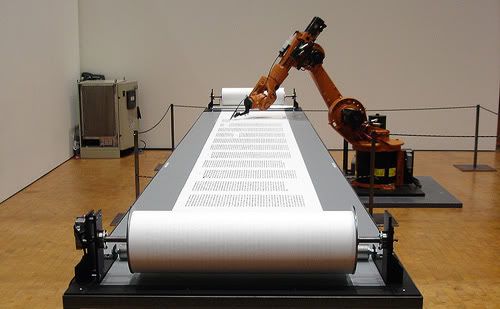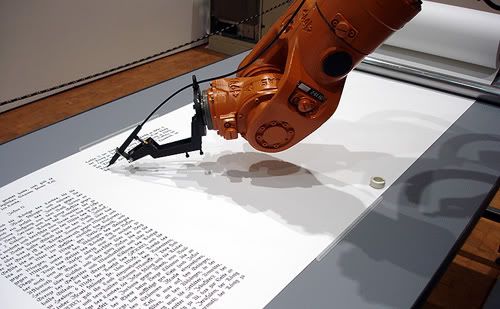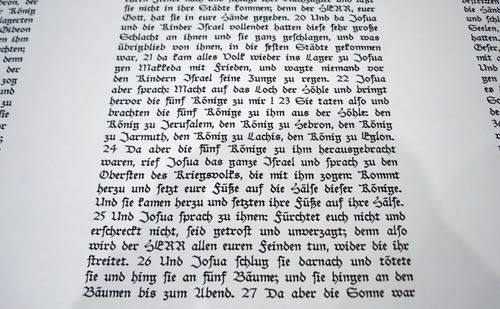 It's hard to imagine this application of robotic science has a future. The letters appear to be uniform, so there's not much difference between the "hand"-written version and a printed page.
But suppose you could do this: scan the pages of medieval, multi-colored illuminated manuscripts to record the exact design and color values. (As I noted once, the colored inks in manuscripts fade much less than paint on wood or canvas. The hand-painted illustrations give us an authentic idea of the tonal palettes used by artists in the Middle Ages.)
Then, you develop software that enables the robot to ink in exactly the same colors as the original on each page. You could even use parchment-like paper. When the process is complete, you have a nearly exact copy of the historical document … and besides, the software files could be stored so that reproductions could be made any time, even if the original were to be lost in some calamity.
High-quality modern color printing can give a pretty fair image of hand-painted manuscripts, but even at its best can't reproduce the sheen and mineral-impregnated tones of colored ink applied flat rather than bit-mapped in the four-color process.
Imagine recreating in actual size an illuminated manuscript such as the 15th century masterpiece,
Les très riches heures du duc de Berry
: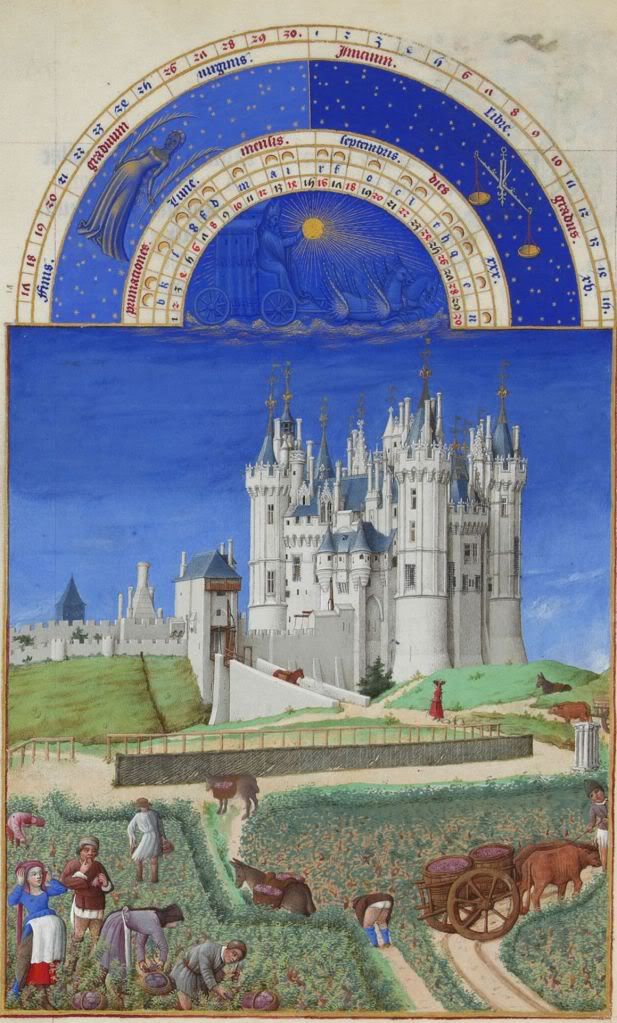 I understand that Google is embarked on a project to scan every book in print, or maybe every printed book available. I'd like to see all hand-written manuscripts preserved as well. It would be expensive (though there might be economies of scale). The writings of the ancients were copied, and often embellished, by men in much poorer societies than ours. We might do those artist-craftsmen the same favor.