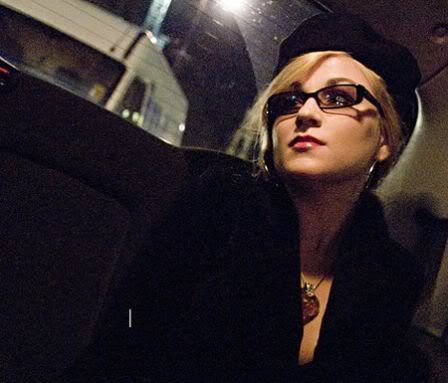 Last year Melody Gardot, a 22-year-old singer, guitarist, and composer released her second album,
Worrisome Heart
.
Google Image Search offers quite a few photographs of her. To judge from some of the more candid shots, she is an attractive young woman, but possibly not one who would turn heads when she entered the room or someone you'd immediately fasten on in a crowd. Wonderful are the ways, however, of photographers who know how to tailor their work for show business.
I mean that as an honest compliment. Glamour photography is a true art form. (
Glamour
, with its luxuriously stretched, exotic ending, simply will not be reduced to the Americanized and plebeian
glamor
.) Why is it put down as "commercial"? Is photography intended to be hung in art galleries with turbo price tags less tainted by money? Don't glamour shots and "art" photography have similar aims, to create striking images based on color, atmosphere, and composition?
Here's a Melody Gardot gallery: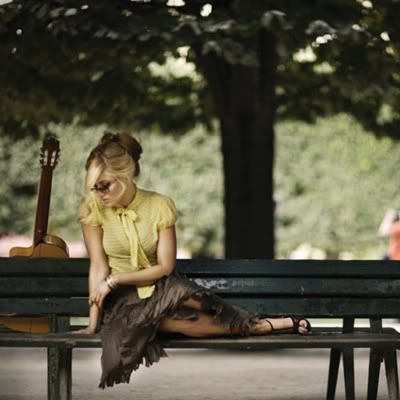 Melody has an interesting story. She was struck by a car while riding her bicycle, and suffered serious bone, nerve, and head injuries; she still walks with the aid of a cane and wears dark glasses because of oversensitivity to light. As a path to recovery, she took to music therapy in a big way, and began writing and performing songs.
That would be of no importance, except to her, were it not that she has emerged as one of the most striking new talents I've heard in years. The fact that her album was released on Verve, the prestigious jazz label, indicates that she's impressed some of the toughest music critics in the business — recording industry executives.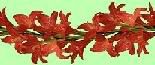 Her voice commands instant attention and is not one you're likely to forget, a supple and spectrally hued instrument. Emotionally, she ranges from innocent
naïf
to solitary dreamer to sultry flirt.
More than that, Melody has found her own musical territory. If you want to map it, the coordinates are jazz, early '60s-style folk, pop, and blues. Too much eclecticism can be dangerous, running the risk of jarring shifts from one mode to another, but she doesn't fall into that trap because she adapts each style to her own sensibility.
Remarkably for a musician who grew up in the era of iPods, 99-cent downloads, crap designed to meet the needs of formula radio, and almost purely rhythmic dance-club tracks, she writes real songs that live up to her first name. I won't say she's yet in the league with George Gershwin, Cole Porter, Harold Arlen, or even Lennon-McCartney, but this is a distinguished album that promises a bright future for her.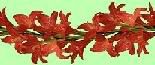 If her injuries released an inspiration that had been latent in her, they were a gift from God — even if, in the manner of so many of God's gifts, they arrived like a punch in the gut.