Charlotte Brontë's Jane Eyre is one of the few 19th century romantic novels to retain its popularity in our anti-romantic time, partly because it is much more than a conventional romance. It involves emotional undercurrents, the uncertainty of human wishes, social class, money, and the way of life in a remote corner of northern England.
The 2011 film version of Jane Eyre seems to have come and gone without much notice, but it's as fine an adaptation of a classic in its genre as I've seen -- more affecting than any of the slick, big budget versions of the Jane Austen books that have inundated us in recent years.
Hats off to Cary Joji Fukunaga's lively but un-gimmicky direction and Adriano Goldman's rich cinematography, beautifully conveyed in the Blu-ray transfer, but what mainly raises this Jane Eyre high enough above the ordinary to warrant a blog post is the casting of the central characters: Michael Fassbender as Mr. Rochester and Mia Wasikowska as Jane.
Fassbender gives us psychologically acute portrayal as the sad aristocrat who is drawn to Jane, a governess for the girl child in his care. Almost every line reading seems to suggest a meaning beneath the surface. This is unobtrusively superlative acting.
I had never before heard of Wasikowska, who hails from Australia. She is Fassbender's match in subtlety while confidently holding the screen. When Jane's heart was broken by the last-minute prevention of her marriage to Rochester, mine broke a little too. What greater compliment can I pay an actress?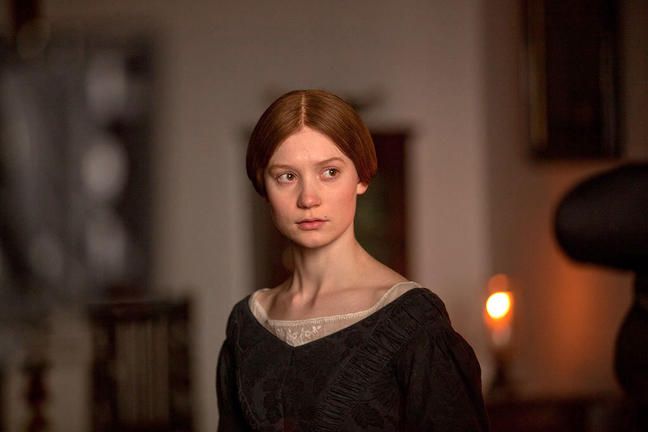 As an aside, the Brontë family seemed always to be close to an abyss. It included
novelists Charlotte, Emily, and Anne, two other sisters, and a brother, Branwell. I've visited their parsonage at Howarth, Yorkshire, along with the nearby church where the clergyman father, Patrick, was in charge. Even today you sense some finely tuned bleakness in the environment, the air charged with mystery. The film captures the strange atmosphere of the remoter parts of Yorkshire, although it was shot in Derbyshire and Oxfordshire.
The Reverend Patrick Brontë outlived his wife and all his children. It is scarcely possible to imagine what his final years were like for him.