With no small surprise, I received an email invitation to a press luncheon called "Rendez-Vous en France" at the Sofitel in Washington, sponsored by Atout [sic] France -- French Tourism Development Agency. I am on various press lists, owing to my long tenure as a writer-editor on a magazine till recently, but have nothing to do with the tourism industry.
Well, why not? I accepted the offer, which was the reason for my Fauré -- I mean, foray -- to the capital mentioned in the previous post.
As it turned out, the hundred or so guests weren't travel writers either, although most worked for the media, including some major ones. I summoned up the nerve to introduce myself to a regular columnist at Barron's, whose reports from Washington's heart of darkness I have often read. We had a pleasant chat.
The tourism agency was actually clever in its strategy, I think. There would have been no point in wining and dining travel writers and planners -- they're inundated with tourism promotions already. But writers in other fields might be more inclined to yield to the promised joys of visiting France, or at least dropping a favorable mention into their articles.
Let me back up a little. Sofitel is a French luxury hotel brand. I had never been in their DC outpost before, or even known about it; I think it opened recently. The Sofitel occupies prime real estate on 15th Street NW, around the corner from Obama's bunker. What I saw of the hotel -- the lobby and the meeting room in which the lunch and presentations took place -- was impressive.
The lobby was elegant but, wait for it, small. What a heartening contrast to the glitzy new hotels that try to knock you out with lobbies the size of football fields. No "smooth jazz" background music (or any background music) to assure you you're having the time of your life. Wood paneling. Indirect lighting. Hurrah!
I was received in the anteroom to the meeting/dining room by a French woman who could not have been more welcoming in the moment I was in her company. I am glad to find that at least some French women still have the traditional grace that one associates with them. There's no word for it in English because it scarcely exists in English-speaking countries. Call it a combination of infinite self-assurance, charme, warmth, and (with men, anyway) the tiniest hint of flirtation.
Not to say that it's a natural trait. It's artificial, but at its best doesn't feel artificial. For 30 seconds you are the spindle around which the world turns. I am hardly foolish enough to imagine it had anything to do with me personally, but I don't mind enjoying the illusion.
After the usual interval of conversation with people at the dining table (they had set out place cards, on what basis of selection I don't know), we were served a satisfying lunch. I allowed myself a glass of excellent white Burgundy. Meanwhile, the presentations went on.
They consisted of videos produced on behalf of visiting the regions Côte-D'Azur, Rhône-Alpes, Normandy, Midi-Pyrénées, and the French-speaking island of Martinique. In addition there were videos for Rail Europe, a one-stop shop for booking European train travel involving individual or multiple railroads, and Air France. I enjoyed all the come-ons, which were attractively photographed and sensibly short, perhaps five minutes each. In particular the Midi-Pyrénées in France's southwest caught my interest: it looks to have its own special character, as the American southwest does.
Naturally there was no hint of France's political, economic, and ethnic troubles -- among other things, the country has the highest percentage of Muslims in any European nation as well as a huge influx of Africans. Neither group seems to have anything in common with the indigenous culture or is making an effort to blend in. Of course this is not a criticism of the tourism agencies for neglecting to tell that side of the story -- their job is to bring in the largest number of visitors who will leave behind the largest sum of euros when they go home. However, any tourist who is not au courant with the situation is likely to be in for a right old shock when they find Paris or most cities not much like their image from old movies.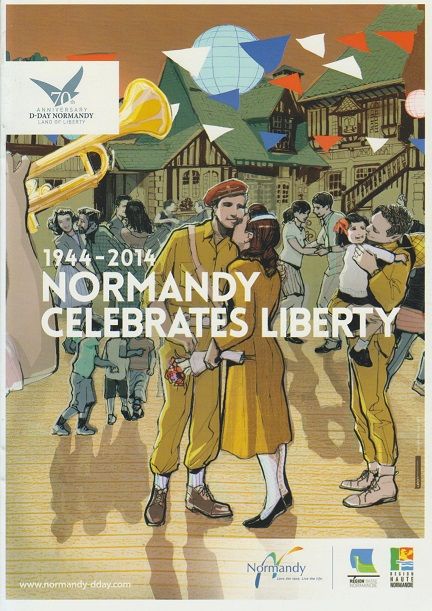 As for Normandy, they are having a Liberation celebration this year, as it seems they now do every year. This is the 70th anniversary; just wait till you see the festivities for the 75th anniversary. I don't know, it's good to commemorate June 6, 1944, but I can't help wondering if it isn't turning into a carnival. What next, a theme park, Normandyland?
The video included the usual, sterile film clips of the Allied soldiers emerging onto the beaches from their landing craft and one shot of the parachute troops dropped behind the German lines. They might have been gathering for a picnic as far as you could learn from the narration. While Spielberg's Saving Private Ryan may have over-dramatized the appalling conditions of the invasion, its depiction was a lot closer to the reality than the video's. The parachute drop was a mess, with most of the paratroopers (especially those who jumped at night) missing their assigned landing areas, and taking heavy casualties.
Okay, enough carping. I am grateful to Atout France for the invitation to the lunch and presentations. It worked on me. I want to visit France again.