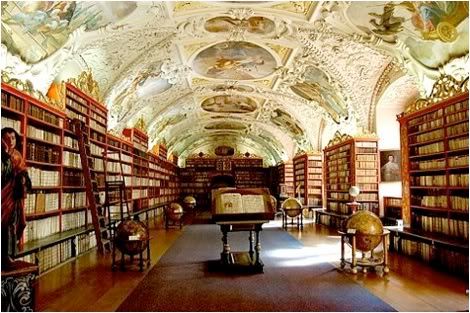 Our increasingly post-literate age honors books possibly less than ever in Western history: the ruling Greek family's library at Alexandria, Egypt, collected books (which were scrolls at the time) from all over the known world.
Rich Roman senators prided themselves on their personal collections. Public libraries once had a mission to enlighten and uplift the public, and some librarians still believe they carry the torch of knowledge, but must be frustrated by the tendency to devote increasing shelf space to best sellers, popular magazines, and DVDs.
Those of us who are avid readers also enjoy libraries, but can be dismayed by sterile, businesslike (or occasionally showily offbeat) modern designs. Except for the contents, many are newly built libraries are indistinguishable inside from bank branch offices or grocery stores.
These photos (tip of the hat: graphic art site
FFFFOUND!
) were built in old times for people who considered books to be treasures. Point conceded in advance: they are not comparable to public libraries, since they were associated with aristocrats or august private institutions. But anyone whose spirits rise a little when entering even a humble neighborhood branch library can enjoy in imagination what it would be like to have any of these spaces to read or browse in.
FFFFOUND! — what an awful name for an interesting site — unfortunately doesn't include identifying captions for the photos. I recognize the location pictured above, though, having visited it. It's in Prague, designed in the 18th century for the Strahov Monastery.
Some other artistically designed libraries: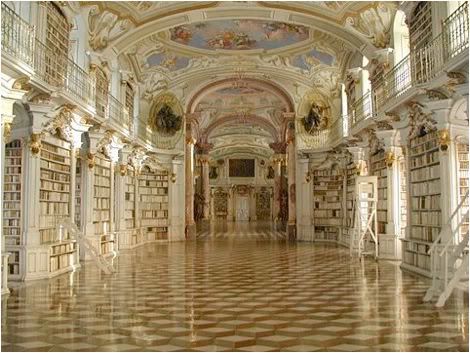 I'm less sure about this one, but it reminds me of the library in the monastery at Melk, Austria, which I saw decades ago.


No idea where this is. Judging from the somewhat severe neo-Romanesque style, I'd date it to the late 19th century.
This job ran over budget, so as you can see they had to cut back on the decoration.
Late Victoriana in excelsis. The influence of the machine age has already left its mark. But dig the staircase and railings.