I didn't know until the other day they were adding a sculpture of Martin Luther King to the National Mall in Washington, but ever since he was canonized it was only a matter of time. It's only another step in filling in the Mall's green space with buildings and monuments to one ethnic group and victim class after another. Ehh.
But this thing? As St. Martin was known to say, "Great God almighty!"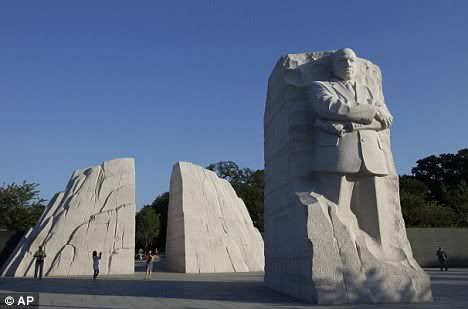 Even Stalin would have been embarrassed to put the equivalent in the middle of Moscow. The Chinese would shy from a monument to Mao on such a scale -- although, America being what it is today, its creation was outsourced to a Chinese sculptor.
If this photo gives an accurate impression of the relative size of St. Martin's colossal torso and the people you can barely make out in the lower right, ...
Excuse me, I've just been in an earthquake. Blimey O'Riley!
First one I've experienced since the 1980s. A very disconcerting business when walls and floors start quivering like Jell-O.
... Where was I? Oh, yes, the MLK Hulk. I've seen sculptures of Roman emperors that were less imposing. Only Constantine's statue, his cogitating bit now in the courtyard of the Capitoline Museum, might have measured up to MLK's.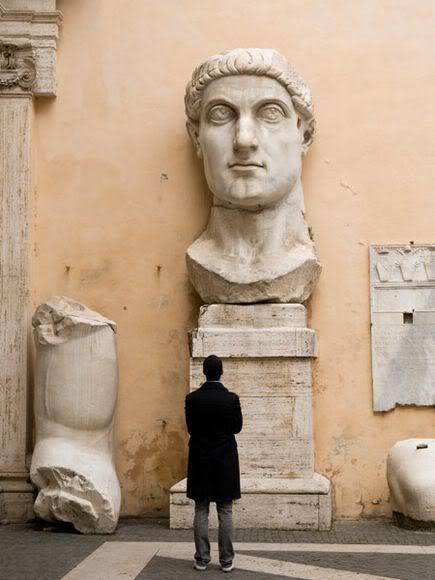 Someone hand me the National Mall checklist, please. Let's see. Recent additions: National Museum of the American Indian -- check. National Museum of African History and Culture -- check. National Museum of African Art -- check. Franklin D. Roosevelt Memorial. Women in Vietnam Memorial.
I expect the Latino Museum deficit to be fixed shortly (unlike every other deficit in Washington) -- it's proposed to be installed in the old Arts and Industries building, formerly dedicated to American inventiveness.
Who's left? Oh, yes. Mark my words: a dozen years from now, the cracks in the Jefferson Memorial will be patched with duct tape, while the new LGBT Museum's opening ceremonies will feature Elton John on roller skates pounding away at a 50-foot be-glittered piano.