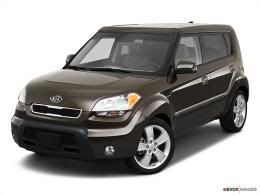 Here's your soul. I mean, your Soul. The new Kia Soul.
Admittedly, calling a car the Soul is a pleasant change from all those alpha-numerics like A3 and letter combinations like GTO. At the same time, it shows the devaluation of "soul" in our age of scientific materialism.
Even silly terms like "soul music" and "soul food" had some vague connection with human qualities. Naming the Korean-made car the Soul is to reduce the word, which once suggested the transcendent part of human identity, to the tag for a mechanical object.
Those who still respond to the old meaning will be disconcerted to hear people say things like:
"I got a used soul cheap."
"I liked it so much I got a second soul."
"She said she'd only marry me if I traded in my soul."
"The bank re-possessed my soul."
I'll stop here. Brevity is the Seoul of wit.