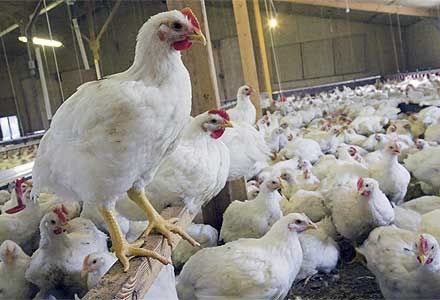 Chickens have committed a hate crime in Massachusetts. Look at those above: they're white, every one of them. Recruited by the Ku Kluck Klan. Do not be complacent: your children's school could be in danger.
To make matters worse, a racist
typographical error
compounded the incident. Just
ask the AP
, always on the lookout for white racism.
Mass. school quickly fixes racist typo on menu
School officials in a Massachusetts town are apologizing for sending home a lunch menu that listed KKK Chicken Tenders as an option.
About 6,500 students in four Methuen schools went home with new menus Tuesday, a day after the original one mistakenly listed chicken seemingly in the style of the Ku Klux Klan. Superintendent Judith Scannell tells The Eagle-Tribune the menu was supposed to list Chicken Tenders, with the KK standing for a creatively spelled "Krispy, Krunchy," but an employee mistakenly hit the "K'' key one too many times.
"My deepest apologies to anyone who was offended," said Heidi La Bajada, diversity coordinator for Methuen school food services. "The typist involved has been suspended without pay and from her thumbs pending investigation. We are actively seeking a grant from Massachusetts corporations to purchase software that will guard against keying the letter 'K' more than twice. In the meantime I can only say, we are extending Black History Month to include March. Remember Martin Luther King of Kings, and join with me in this prayer: 'We shall overcome.'"