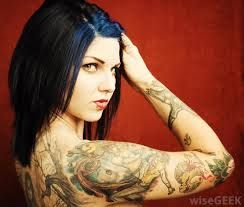 What are you looking at, you racist, sexist, homophobic,
lesbianphobic, transphobic, Islamophobic, judgmental creep?
Melanie Sturm, an opinion writer for the Aspen (Colorado) Times, was grooving on "a glorious springtime visit to San Francisco" when she was shaken up by
... a scantily clad, tattoo-festooned woman on whose neck and jaw was emblazoned the ultimate gotcha question: "Who are you to judge?" Disarmed and unnerved by her determination to discredit judgmental passers-by, and before I could Think Again, I felt shame. After all, what compassionate, well-meaning person could answer her question without seeming prejudicial? Don't we judge people by the content of their character, not the color of their skin — even when it's multi-variegated dragons or flowers?
Incidentally, Melanie, variegated means (according to Merriam-Webster) "having patches, stripes, or marks of different colors," so multi-variegated would be different colored different colors.
Melanie's shame at being judgmental about the tattooed lady is actually another form of the tattooed one's behavior -- based on the conviction that normality is conformist, narrow-minded, unworthy.
In my view, Melanie gets almost everything about this encounter wrong.
First, she does not recognize that the tattooed woman was not only being aggressive -- trying to upset and intimidate passers-by -- but was herself being "judgmental." That is, her body slogan assumed that anyone seeing her would have a "prejudicial" reaction.
Now it is true that outside of San Francisco, Los Angeles, New York, and most college towns, many do find grotesquely tattooed people distasteful if not revolting. According to Melanie's description, the anti-judgmental crusader's body "art" was pretty mild compared to other examples. I can't bring myself to link to it, but if you don't know the depths of this contemporary self-mutilation and think you can handle it, go to Google Images and type "tattoos" in the search field.


And here is Melanie's second, and biggest, mistake. She has signed on to one of the fallacies of institutionalized rebellion: the idea that something being permissible for the sake of individual freedom means that no one must criticize it or reject the person who performs the act.

That is, not only is everyone allowed the most outrageous exhibitionism, they are supposedly entitled to approval and protected from disapproval.
No! Disturbed people have a right to make themselves appear loathsome, while others have a right to say, "You are disgusting and make me sick."
Melanie seems not to get any of this. Her problem is in line with the therapeutic value system she was raised in: the offense was in making Melanie feel bad.
Like the branding on her skin, this encounter, though fleeting, stuck with me. Whether wearing a scornful signpost to the world actually makes her feel good, it made me feel bad. Was this her intention?

[Note to Melanie: Do you have to ask? Publicly expressed scorn is designed to make someone else feel bad.] Why provoke defensiveness and discord in a world that suffers from too much already? Wouldn't she be happier if passers-by smiled rather than recoiled, and wouldn't more smiling passers-by make the world a better place?
Melanie then goes off on a side trip about being diagnosed with cancer and people who helped her through her successful treatment. If she wants my sympathy, she has it -- the whole article is really about her, not a social phenomenon or someone else's behavior. If she valued warmth and kindness while undergoing cancer treatment, why did she experience "shame" because of someone trying to make her feel rotten?
"Don't we judge people by the content of their character, not the color of their skin — even when it's multi-variegated dragons or flowers?" But the "multi-variegated" dragons, flowers, and other less savory designs that nut jobs have permanently inscribed on their skin reveal the content of their character. They weren't born that way -- they chose to have it done to themselves. Bless their souls anyway. As for their personalities, sod them.