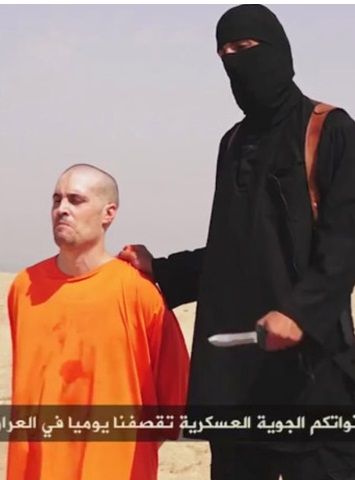 The cultural Marxist "narrative," like James Foley, is dead. The Islamic State doesn't consist of "extremists," "insurgents," or "militants." It's a regional Murder Inc.
The Islamic State has made its intentions plain as can be. The Daily Mail reports:
Foley's beheading comes just one day after ISIS militants threatened to attack U.S. targets 'in any place' in a chilling YouTube video showing a blood-spattered American flag and the message in English: 'We will drown all of you in blood'.
In another video it showed -- graphically, we are told -- Mr. Foley's beheading.

The Obama mob and its running dogs in the mainstream media have to be reeling at this development. All the tired old formulas have suddenly become irrelevant. There is no way for two sides to "work out their differences." If any country or group of countries were to react "proportionally," they would have to be as barbaric as the I.S.
Obama can send John Kerry on the next plane to advocate a cease fire and peace process. I'd be afraid to be in the same room with the I.S. if I were him. In any case there can be no peace process with those for whom the words carry only the meaning, "worldwide caliphate."
On Fox TV news, the Reverend Franklin Graham said, "ISIS jihadists are crucifying and beheading Christians in Iraq and Syria --'people are dying for their faith'--and added that he has heard of 'incidences where entire families have been buried alive because they refused to convert to Islam.'"

Naturally,
in a typical reflex, all the King's horses and all the King's women controllers
tried to put the narrative together again. From the Washington Times:
Interrupting his two-week vacation at Martha's Vineyard yet again to address the growing threat posed by the "nihilistic" and morally "bankrupt" Islamic State terrorist group — formerly known as ISIL or ISIS — the president said the organization's hateful ideology must be rejected. He also vowed justice in response for the brutal killing, shown to the world via a video posted to YouTube on Tuesday.