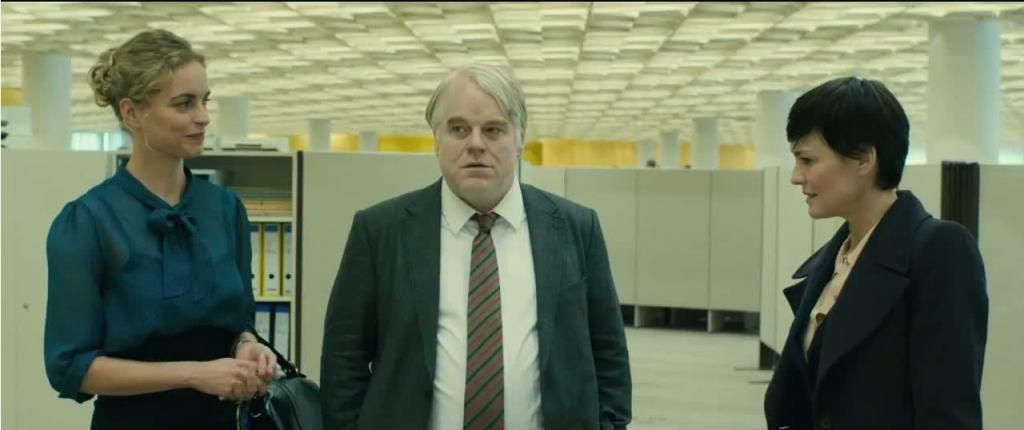 I'd been looking forward to A Most Wanted Man, based on the John le Carré novel of post–Cold War espionage. I like the spy genre and le Carré, for all his sour attitude about the trade (understandable, since he himself used to practice it), usually writes a good story.
But a bunch of things have gone wrong with the film version, including that it's impossible to watch without knowing uncomfortably that it was Philip Seymour Hoffman's last role before he died of a lethal mixture of heroin and prescription drugs. We might as well get that aspect of the review out of the way first, since it appears in the lead of almost every article about the picture.
I haven't seen all his films, but it's obvious that he was one of the handful of actors working at any given time who is more than technically proficient. (Acting craftsmanship is quite an achievement and I'm not damning it with faint praise, but theatrical schools these days must be doing something right, since they turn out lots of players who are up to the job.) But Hoffman had, besides technique, a special haunting presence that drew you in, made you identify with him even if you hated the character.
I'm mad at him -- the person, now in the afterlife. He doesn't seem to have intended to kill himself, but he was surely smart enough to know heroin is dangerous, let alone in combination with other drugs. He not only cheated himself out of what would have included other exceptional roles, but deprived the profession and the public of them as well.
All right, the movie. It's almost needless to say Hoffman is the sun around which everything revolves. As usual, he's compelling, although I think he has one overplayed moment at the climax. Otherwise the casting is a mixed bag, and no mistake. Nina Hoss, Willem Dafoe, and Robin Wright are good. But Rachel McAdams, the female lead, supplies nothing but attitude spinning.
The yarn concerns Issa, an illegal Muslim Chechen refugee who shows up in Hamburg to give away a huge financial legacy from his father, a brutal and corrupt military man. Maybe my mind was wandering, but I never got why he had to sneak into Germany, a country that for years has welcomed immigrants unrestrictedly with such generosity that lately street demos in Dresden have begun to bust out.
Grigoriy Dobrygin (Issa) is so inexpressive that he disappears before the scenes he's in are over. He does have one moment of character development: he shaves off his beard. Homayoun Ershadi, as a respectable, supposedly charity-supporting money launderer for terrorists who wants to bag Issa's treasury, seems to be trying to make an art form out of boredom.
Günther Bachmann (Hoffman), a German intelligence officer operating outside the official agencies so he can do things they aren't allowed to, is forced to try to convince various bureaucrats of the other intelligence services of his plan to trap the big-time money launderer

. Naturally they are all portrayed as gray, inhuman functionaries -- a standard le Carré theme. It may be realistic but this is supposed to be a drama, not a wax museum.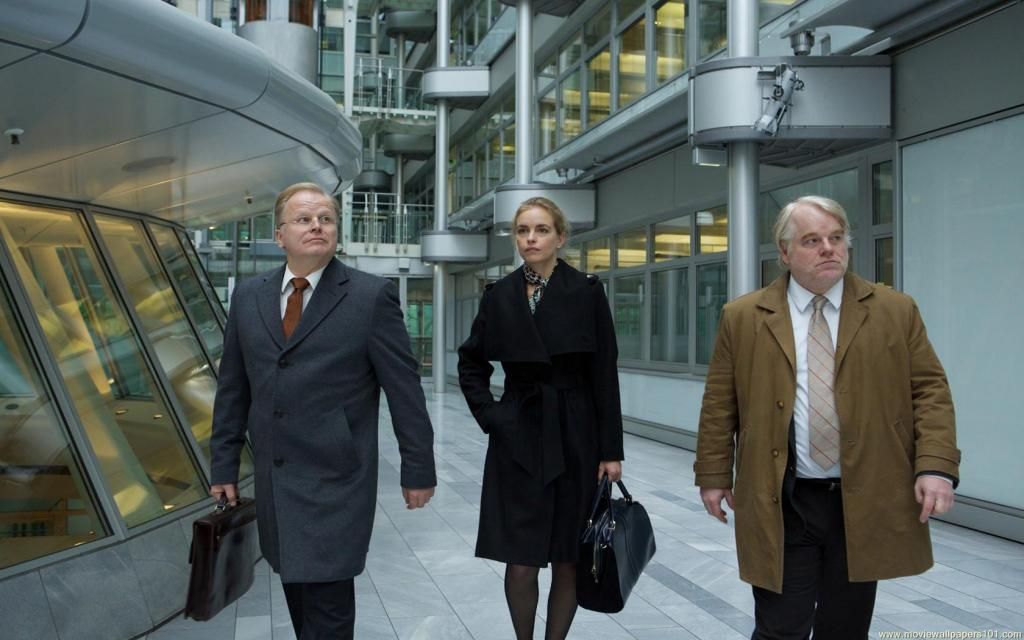 A Most Wanted Man must have had a fairly big budget to include well-known actors, but you wouldn't know it from Anton Corbijn's direction. With most of Hamburg available, the whole movie looks like it takes place in five or six locations, including that contemporary cliché the spies in a trailer full of listening and recording instruments.
Other settings, too, lack originality. All we see is that this city seems sleek and soulless, a monument to empty materialism. That may be realistic as well, since Hamburg was largely burned to ashes by Allied bombers in 1943 and the postwar rebuilding presumably took the form of metallic and glass modernism. But none of the background has any story to tell, any impression to add to the obvious.
Le Carré appears in one of the DVD's special features, typically explaining in his Oxford-educated drawl how rotten the West is and how prejudiced against Muslims.