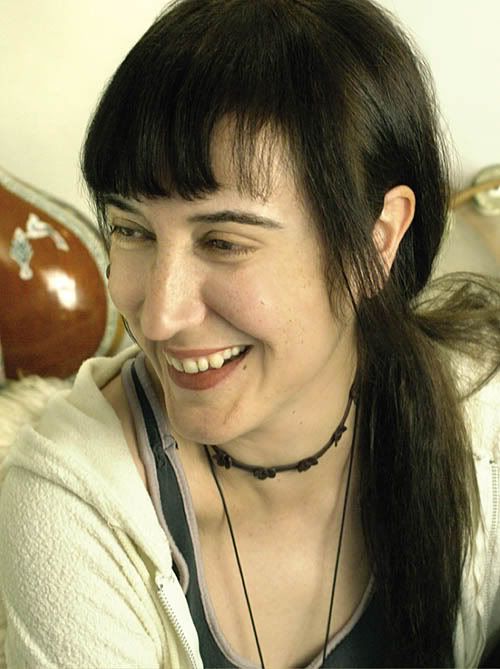 Eclecticism is big in popular music — any day now we will hear about a disc of minimalist bluegrass or Cuban-Tibetan fusion — and some of it seems like a desperate pitch to be different at all costs. But Kristi Stassinopoulu (whom I will henceforth take the liberty of calling Kristi, so as not to get writer's cramp from continually typing "Stassinopoulu") has developed an eclectic style that is original, evocative, and often very beautiful.

If you, like all sensible people, are bored to stone with long discussions of an artist's various influences, I'll just say that Kristi does electronica — but with heart. I sometimes enjoy electronica, especially the genre known as Goa trance, but it too often is numbingly repetitious: music for machines to dance to. But Kristi usually produces an exhilharating sound palette that uses psychedelic rock, synthesizers, Greek traditional music, Byzantine vocals, ambient sound effects, and the unclassifiable in varying combinations. (Well, I guess I just

did

list some of her influences. Hard to avoid when you're trying to describe something unusual.)





The Secrets of the Rocks

cover


I have three of her albums:
Echotropia
,
The Secrets of the Rocks
, and
Ifantokosmos
. I believe she has a more recent one out, which I haven't heard. The three all seem to me to display her prodigious inventiveness and soulful vocals, with excellent backing from other musicians on modern and exotic traditional instruments. Her singing sounds both contemporary and ancient at the same time, something like Lisa Gerrard of Dead Can Dance and soundtrack fame.
Echotropia
and
The Secrets of the Rocks
have been released on an American label (I expect on a British one as well). If I had to recommend just one I think it would be
Secrets
, but if your tastes are anything like mine you won't go wrong with either.


I bought
Ifantokosmos
when I was in Athens. It is on a Greek label, and the cover and notes are entirely in Greek. I could make out
kosmos
(world) in the title, but the rest was incomprehensible — you did think I was going to say "Greek to me," didn't you? A very charming young woman clerk in the CD store tried to translate it to me, but her English wasn't up to it. She could explain
kosmos
easily, but for the rest she fumbled, then tugged at the sleeve of her dress. The
Sleeve of the World
? Didn't seem likely. Later I looked it up online and found that it means "the woven world." No wonder she was at sea. You have to really know a language to be able to find the equivalent of "woven." I wouldn't even know how to say it in French.