Correctional Service of Canada logo

According to the Canadian Multiculturalism Act 2006–2007, "All federal institutions shall undertake projects or programs in respect of multiculturalism and carry on activities in a manner sensitive and responsive to the multicultural reality of Canada. Ministers of the Crown shall, in the execution of their respective mandates, take such measures as they consider appropriate to implement the multiculturalism policy of Canada."


We are in complete harmony with the Directive. As

Director, Ethnocultural Services Section, Offender Programs and Reintegration Branch, I am pleased to present

this submission by the Correctional Service.

It is of course available in French and 49 other languages.
Q. 2.1 Does your institution's vision, mission, mandate and/or priorities statement(s) include reference to multiculturalism?
Yes, Commissar, a thousand times yes! Your vision is our vision! Consider, if you please,
Commissioner's Directive 702 on Aboriginal Programming
: "To ensure that Aboriginal Offenders are provided with an equitable opportunity to practice their culture and traditions without discrimination and with an opportunity to implement traditional Aboriginal healing practices."
Q. 2.3 Does your institution have programs related to multiculturalism?
Glad you asked me that, Sir! We consider these programs to be our core mission. Let me give you just a few examples.


"In Ontario, we have contracted with the Black Inmates and Friends Assembly to provide a variety of programs to Black inmates and other ethnocultural groups including the provision of ethnocultural programs and services to ten institutions as well as to provide contact between ethnocultural communities in the Ontario region and federal offenders indigenous to those communities to assist in their successful reintegration back into their respective communities. Specific activities include the provision of training to staff, meetings with ethnocultural groups, establishment of volunteer visiting programs, creation of a network of volunteers from the different communities to work with offenders in the community."
That's only one token of our ethnoculturally centred outcome-directed inclusiveness drive. Take another: "Five new positions will be created for the coordination of ethnocultural services in all regions." Or this: "Inuit Programs on substance abuse are being provided by an Inuk Elder." And people imagine that all we do is keep criminals from preying on them. In fact, I am putting in our budget request for the next fiscal year a proposal to fund a public educational program to increase awareness of how we are at the leading edge of Canada's multiethnic inclusive sensitivity initiative.
Q. 3.1 Did your institution undertake initiatives to foster a corporate culture that embraces diversity?
Does an Inuit club baby seals? Excuse me, that just slipped out. I meant of course, Commissar! I am proud of our proactive, multiethnic solutions-based actions. Let me just bring you up to speed on a few. If you'll turn to page 43, you'll see the following:
"In order to encourage staff and recognize their efforts in increasing cross-cultural awareness and sensitivity toward ethnocultural diversity and improving race relations, a multiculturalism award has been created. The award consists of a citation signed by the Deputy Commissioner or Assistant Commissioner and the Deputy Minister of Canadian Heritage. It is awarded every year on March 21; International Day for the Elimination of Racism." Bingo!
Or — you'll pardon me if I swell with pride a little — how about this:
"In Atlantic region Watoto an event organized to raise $27,000 to build a house in Africa. Many activities surrounding African-Canadian culture such as African Children's Choir were organized at Nova - prison for women in April 2007." Kind of takes your breath away, I know. But there's more:
"Change of Seasons Gathering! Black History Month! Asian Heritage Month Events! Violence Against Women events! Human Rights Day Observance! Aboriginal Cultural Awareness Sessions/Forum!" And (I'm bound to admit to having had a hand in advancing this) "Talking Circles with Native Liaison Officer or Aboriginal Elder."
Q. 3.3 Did your institution undertake initiatives to celebrate Canada's cultural heritage with the general public?



In a word — yes! "Under New Employee Orientation Program, in some regions, staff are offered the opportunity to participate in sweat lodge ceremony in one of the Aboriginal communities."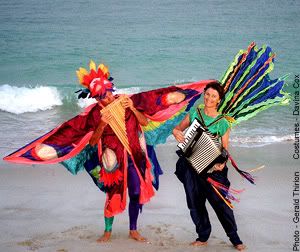 Steering committee, Multiethnicity Command Centre,
Correctional Service of Canada
Q. 4.1 Did your institution develop policies that took into consideration multiculturalism and diversity?



Sir, you can take that to the bank. I direct your attention to page 77: "Personal Effects policy now has added culturally sensitive items such as hair care products. Policies must align with a Diversity and Cultural Sensitivity Checklist."
Q. 5.1 Does the workforce in your institution reflect Canada's diversity?



Absolutely.
Number of visible minority employees: 786!
Aboriginal employees: 1026!
I am in a position to assure you, Commissar, that a substantial number of these employees also meet guidelines for inclusiveness of women, differently abled, lesbian/gay/bi/transgendered
warm and wonderful people.
In reading the complete report, I am sure you will agree that we are fully meeting our responsibilities under the Multiculturalism Act. And we will continue to press for changes to the law mandating that ethnic and indigenous persons be incarcerated only in numbers that are exactly proportional to their representation in our great multicultural Canadian society.