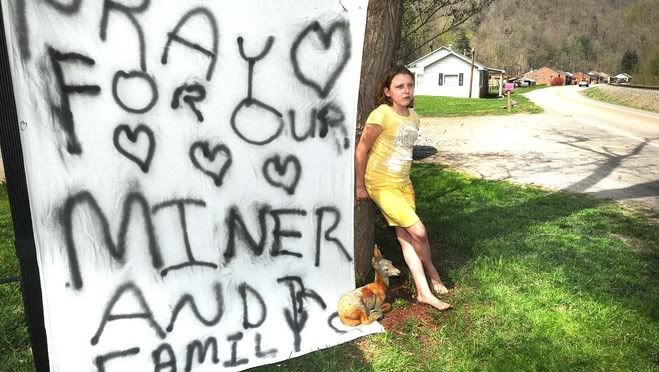 Assuming you or a relative don't work in a mine … how often do you think about those who do?

Not often, probably. Not until a fair number of them are killed at the same time and the same place, or rescue workers are racing the clock.

Coal miners, who to this day are largely of old-American, Scottish-Irish ancestry, do a job most Americans won't do, or even notice.



In his book

Class

, Paul Fussell wrote that one simple way of determining what social class people belong to is to ask whether they run a serious risk of being injured or killed while they are at work.

If bankers, lawyers, or Senators had the same statistical odds of meeting their maker while on the job, they would see to it that several billion dollars a year were spent to make their quarters safe from collapsing floors or ceilings, from computers that could chop off their hands, or from air that would leave sludge on their lungs. Health and safety inspectors would visit their premises every week. Any employer ignoring safety violations — like Massey Energy Company — would be in the gunsights of heavy-duty tort bomber lawyers, especially if the employer could pass the settlement cost on to the taxpayers.

Despite the efforts of OSHA — one federal agency that on balance has done a lot of good, despite its excesses — industrial workers continue to risk life and limb in numbers that are shocking, but only if you think about it.



According to the Bureau of Labor Statistics, there were 5,071 fatal work-related injuries in 2008. It can safely be assumed that not many of those 5,071 were wearing power suits or occupied private offices.

"Slightly more than one-half of the 3.7 million private industry injury and illnesses cases reported nationally in 2008 were of a more serious nature that involved days away from work, job transfer, or restriction — commonly referred to as DART cases," the BLS says. "These occurred at a rate of 2.0 cases per 100 workers … ."

Categories of fatal occupational injuries included "transportation incidents" (crashes, probably mostly of trucks); "assaults and violent acts"; "contact with objects and equipment" (subcategories included "caught in or compressed by equipment or objects" — 299 deaths in 2008; "caught in or crushed by collapsing materials" — 101 in 2008); "falls"; "exposure to harmful substances or environments," including 192 deaths from "contact with electrical current" and 102 from "contact with electrical power lines"; and "fires and explosions."



No one wants these events to happen, of course. It's just that they're so removed from the world of the cognitive elite that as far as they're concerned, they

don't

happen. The media make a huge meal out of any finding that an airline has failed to meet the letter of FAA-required aircraft maintenance — after all, people jetting from conference to lecture to business meeting are perceived as being at risk.

Meanwhile, the people who build, construct, repair, mine, chop down, etc. are invisible to their social betters, who think of them — when they do — as bitter-enders, clinging to their guns and religion; rednecks; Joe Six-packs; red staters; flyover country losers. Only in dying are they granted respect outside their own circles. The media tears flow, at most, until someone or some corporation can be found to blame.