The first step in defending Western culture is to enjoy it.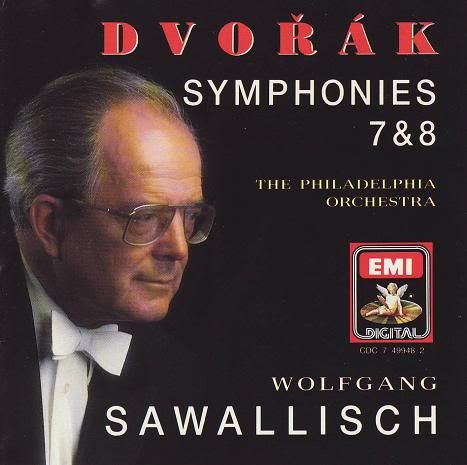 One of the many ways journalism corrupts is its obsession with the new. Yes, of course, "news" is by definition what is new; but in a medium where all that counts is the most recent, a tiny fraction of what is accessible becomes monstrously out of proportion.

Sadly, "news," the thirst for novelty at all costs, is how many people interpret the world. The loss is greatest in the realm of arts and ideas. New books and musical recordings have their proverbial 15 minutes, then disappear into archeology. Unless someone has an urge to dig for them (which entails being aware of them in the first place), they are gone, fossilized.

Yet they live, and are as present as you like, as long as you don't take journalism for your cues to what is interesting.



Consider, for example, this recording of Dvořák's Symphonies 7 and 8, with Wolfgang Sawallisch conducting the Philadelphia Orchestra. It was recorded in 1989 or 1990.

What is most notable about it is the "Philadelphia sound" that its former conductor, Eugene Ormandy, built into the orchestra. It consisted especially of silken strings. Unfortunately, during Ormandy's tenure at Philadelphia, which lasted 44 years (1936-1980) -- can you imagine anything like that span today? -- recordings failed to capture what made the orchestra such a marvel to those who heard it in concert. From, I believe, the '50s through the late '70s, the Philly was signed to the Columbia label, whose sound engineering was poor, and RCA, which was worse.

What

Philadelphia sound?



Well, listen to this.

By the grace of God, the English label EMI caught Ormandy's musicians in a few performances. EMI was doing some of the most accurate recordings of any label at the time. I have a treasured EMI disc of Ormandy conducting Sibelius tone poems; and here, although it was several years after Ormandy's death, it is obviously still his orchestra, captured in sound that is still very respectable, if not up to the best of today's recordings.

Sheer tonal beauty, exquisite refinement, are not much valued today. As with everything else, performances are supposed to be "edgy," whatever that means -- sloppy? Insensitive idiots put down Karajan's Berlin Philharmonic, which on the evidence of recordings was the greatest orchestra that has ever been or probably ever will be, as a "well-oiled machine." Ormandy is under the same cloud. The playing is too beautiful.

Well, if you are not swayed by contemporary anti-aestheticsm, check this out if you get a chance.

Am I recommending this as a Dvořák performance? No, not really. It's a fantastic

performance

, mind you, but it's not my idea of Dvořák.



Sawallisch was very much in the Germanic tradition. Born in 1923, he was among the last generation of conductors who absorbed a regional style of interpretation. There's no such thing anymore; our modern jet-setting conductors have no aesthetic homeland. They don't know if they're in Brooklyn, Salzburg or Napoli.

So this is very "Germanic" Dvořák, sort of like what Beethoven might have written if he'd lived another half century. Huge orchestral climaxes, mystical slow sections, unsentimental. Wrong, wrong for Dvořák. Sawallisch doesn't want to know when it comes to that indefinable but immediately recognizable Bohemian lilt. I don't have the musical knowledge or language to explain it, but Czech music is sort of Viennese ("situation hopeless but not serious") with an added sadness, resignation ... and a touch of the sweet eroticism Mucha (almost a contemporary of Dvořák) captured to perfection in his posters. A lot of it comes via the woodwinds, not prominent here.

Sawallisch's performance is string heavy, or maybe that's just how the Philadelphia Orchestra played and no guest conductor was gonna tell them different. (Sawallisch later became Philly's music director.)



But don't get me wrong: this isn't bad music making by any means. It's often thrilling. The slow movements are profound. Sawallisch is a top-class musician, and within his own stylistic realm, he led a splendid Dvořák 7 and 8 and we can thank EMI's producer and sound engineer for bringing it to us in all its glory. Sawallisch was faithful in his fashion to Dvořák.