Kameha Grand Hotel, Bonn, Germany
Some people want a hotel room to be pleasant, comfortable, quiet — all the traditional virtues. Others need to get a special kick from it. Or at least, so some hotels are betting.
In my recent, fairly limited experience of newly designed hotel rooms, the trend in decor seems to be pre-Mohammedan Swedish, or IKEA Modern as you might say. Spare enough to give clutter a good name. Oh, and no clock, which is annoying as I do not wear a wristwatch and do not own a cell phone. Probably the idea is that everyone has one if not both, and anyway, you're going to turn on the TV, right?
If you must wake up at a certain time, you're supposed to "program" software that comes with the TV. At the appointed hour the TV springs to life, tuned to the hotel channel, where a corporate greeter's image wishes you good morning in four languages. I am a conscientious objector and turn the tables by picking up the phone and asking for a wake-up call. They will still, for now, do this if you ask.
Some customers prefer their digs away from home to be more
outré. Here are some examples (tip of the hat: Materialicious).
It's understandable that those who travel a lot — that would be primarily businesspeople — get sick of the standard international hotel room and crave variety. But do they really want to spend their, or their company's, money — and very likely the Kameha Grand pictured above costs a bomb — on what looks like a teenager's
basement
room?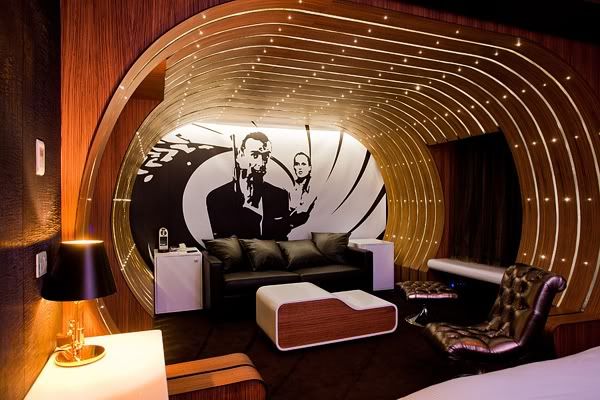 The Seven Hotel, Paris. Also available: Marie Antoinette.
I bet you think I'm going to be scornful of this Strike Up the Bond room (number 007, surely), as fit only for men with a case of prolonged adolescence. Well, you're right. I don't know how any bloke could ask for this accommodation without deep embarrassment, even if only the hotel staff knew. And surely this, too, costs a pretty Moneypenny.
Jumbo Hostel, Stockholm Airport. Built inside the fuselage of
a Boeing 747.
Not to be confused with The Ritz, Piccadilly. Or maybe, since London hotels are going bonkers trying to re-invent themselves as beyond trendy, maybe this is what The Ritz looks like nowadays.