Leslie Flint (1911-1994) was a direct voice medium. Direct voice is the strangest, rarest, and most controversial form of mediumship. I know of no practitioner of it today, although it is likely that they exist but prefer to avoid publicity and work privately in a circle of friends.
Most mediums, who convey messages from spirits who have passed through death to the Other Side, speak -- either consciously or in a trance -- in their own voice, sometimes altered by the personality of the spirit. (This posting will avoid the tedium of qualifying every statement with words like "alleged," "claimed," etc.; your blogger is fully aware that mediumship arouses no end of skepticism and objections, which will be touched on briefly later.)
In contrast, a direct voice medium
such as Flint
enables the spirit to speak in his or her
own
voice, which seems to issue from somewhere outside the medium. That sounds impossible. We cannot say it is possible, only that it appears to happen. I hesitate to mention a suggested explanation, that a medium such as Flint creates a secondary voice box out of ectoplasm, because many fraudulent extrusions of ectoplasm have been exposed over the years. The word understandably has become a joke, but until a better explanation comes along we have to admit that ectoplasm may not always be a trick.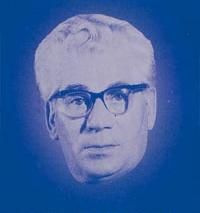 Leslie Flint, photo from the cover of his autobiography
The spirits who were called up by Leslie Flint over many years were
recorded
.
Here
is a partial list of those who spoke in his presence, with links to the recordings. These come close to the Holy Grail of psychical research -- a "permanent paranormal object" that can be studied continually, as opposed to most paranormal phenomena that happen spontaneously in a particular time and place and are then unrecoverable, so that all that is left is personal testimony (sneeringly dismissed by the Materialist Scientific Establishment as "anecdotal").
There has still been one problem with the Flint recordings: the sound quality is godawful. He used a home tape recorder and what seems to have been a primitive microphone. As if that wasn't enough, the voices came from mid-air, which means that lots of ambient noise was also captured.

Fascinated with the possibility of hearing the actual voices of spirits -- some of whom were famous during their Earth lives -- I have listened to a number of the recordings. Most have tried my patience. Not that the voices can't (in most cases) be heard and understood, but it's hard work making them out through the sonic grunge. Ever since the recordings first appeared on the Web many years ago, I wished that modern computer noise reduction techniques would be used to clean them up. I doubted it would happen in my lifetime, and possibly not ever.
The Leslie Flint Educational Trust now offers a few of the recordings in vastly improved audibility on its own YouTube channel. Some examples follow.
Ellen Terry, image by the brilliant Victorian
photographer Julia Cameron
Ellen Terry (1847-1928) was the leading stage actress of her day, admired by almost all its leading artistic figures, even the sour George Bernard Shaw (with whom she carried on an extensive correspondence).
Here
is a brief recording of her spirit from the Flint tapes;
here
, a longer one.
I find these recordings convincing; aside from the elevation of the thoughts she expresses, the voice is what I would expect a leading actress of her time to sound like -- actors in the 19th and early 20th century were supposed to speak the "Queen's English," very posh. (I once saw a funny film clip of Laurence Olivier parodying the elocutionary style of stage dialogue he remembered from his youth.) You almost never hear an accent like this in England today, even in Oxford or Cambridge.
Arthur Conan Doyle devoted most of his last years to psychical research and wrote several books on the subject. Here he is in a Flint recording (if you're already familiar with his biography, you might want to skip the introduction):
Frédéric Chopin gives an eloquent description of his death and awakening in the afterlife:
The other recordings upgraded by the Leslie Flint Educational Trust can be accessed
here
.
Let us turn briefly to the skeptical objections to the authenticity of Leslie Flint's direct voice mediumship. A lot of them might as well be phrased, "The dead disappear, or they never return, therefore this carry-on is impossible, therefore it's phony." He produced his phenomena in the dark -- very common among mediums, which arouses much derision and has been used by fake mediums to hide their sins. Why spirits need darkness to appear has been the subject of elaborate discussion, and I don't fully understand the explanations given, but it is not prima facie evidence of fraud.
The Society for Psychical Research investigated Flint and concluded that the voices heard at his séances were auditory hallucinations brought on by hypnosis. Another experiment conducted by Dr. Louis Young involved roping Flint to a chair and putting colored water to hold in his mouth during the séance. After the ceremony, the researchers found that the water that was stored in Flint's mouth was only fractionally less, which implies that his throat did not open in an attempt to speak. Other studies conducted by The Society for Psychical Research as well as other researchers of Flint involved conducting séances with plaster-sealed lips, microphones wired to amplifiers placed over his larynx to magnify noises, and the fixation of an infrared telescope on Flint to focus on his every movement in the dark. Flint was also investigated by Professor William Bennett of Columbia University, who after extensive testing concluded that Flint was genuine. Despite these studies failing to disprove that Flint was producing the noises through his throat, it is believed that he may have produced voices from his stomach. He has also been accused of using prerecorded tapes to produce voices, as well as live accomplices providing a two-way voice channels.
Being able to hypnotize a tape recorder time after time is perhaps more bizarre than enabling spirits to speak in their own voices. So is the idea that Flint was a ventriloquist who could speak with his lips sealed and holding water in his mouth. If he produced the voices with his virtuoso stomach, then I can sing "Celeste Aida" by wiggling my ears.
It is theoretically possible that the speakers might have been living accomplices, though most of his sessions were attended by witnesses who probably would have sensed the presence of an extra person even in the dark. Besides, it would take an actress of Royal Shakespeare Company or National Theatre caliber to convincingly emulate the Ellen Terry we hear, and it's hard to imagine a reputable actress being willing to participate in any such dodgy enterprise.
Some commenters I've read claim the voices all sound suspiciously alike, or like Leslie Flint. That is so wide of the mark that I can only assume they are from Americans, who are clueless about British accents -- reviewers on the American Netflix site gripe that British films should have subtitles.
Consider the recording of the spirit of
John Brown
, Queen Victoria's companion in her later years at her estate in Scotland. It's not one of the cleaned-up recordings, but it's fairly clear. That's Scottish speech if I ever heard it. (There has been much speculation about the reason for the close relationship between Victoria and Brown; based on the Flint tapes of them both, Brown was a medium and Victoria a secret spiritualist -- the monarch obviously could hardly make her belief public.)
Or
Thomas Jefferson
. This one, unfortunately, was recorded at too low a level, but if you boost the volume to the max or your computer is connected to an amplifier, you can make him out. To my ear, he talks in a combination of the speech of England and the lovely traditional Virginia drawl. I live in Virginia and recognize it. The hybrid accent is exactly what you would expect of a man born in the British colony of Virginia.
And hark to
Jeremiah
, who was killed serving in the army of Oliver Cromwell whose forces de-throned and eventually de-headed King Charles I. I've
never
heard an accent like this. We may be listening to the voice of a man of the 1640s, as if we traveled back in time.
None of this means there can be no reasonable objections to the phenomena. Although I have little doubt that Flint was able to bring spirits into his environment, not all were necessarily the persons they claimed they were. Many childish spirits take great amusement in conning the living and impersonating famous deceased. I have read they can be quite convincing.
Like everything else in psychical research, the meaningful question is not whether we have strict proof. The verdict rests on a more commonsense consideration: what seems most likely based on the evidence, taken as a whole?