Tourists flock to Independence Hall and the Liberty Bell, paying their respects to a Republic that now exists only in name. (If they were serious patriots, they'd be marching on Washington.) A better, and possibly more meaningful, sight in Philadelphia is the Masonic Temple. The temple is far from an out-of-the-way destination -- it's right across the street from the famous, ornate city hall, and you can take a guided tour any day except Sunday.
The lovingly preserved Temple was built in the late 19th century, although some of the decor is a little newer, early 20th century. Its exterior is Norman/Gothic revival, pleasing to those of us with a taste for such architecture, but not particularly notable. The interior, however, is dazzling.
There are seven large halls for various functions; the remarkable thing is that each is designed in a different historical style, with Masonic symbolism thrown in.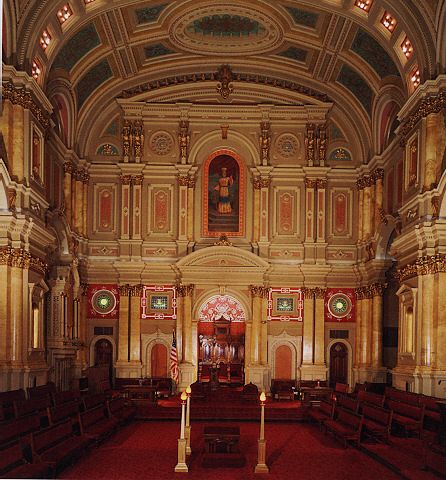 The detailing is breathtaking, and scrupulously historically accurate.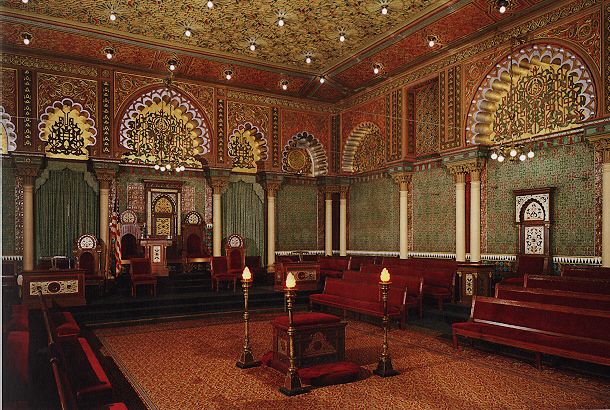 Oriental Hall
For the spectacularly evocative, the Egyptian Hall is hard to beat. It is said that academically trained scholars of ancient Egypt have pronounced its design authentic.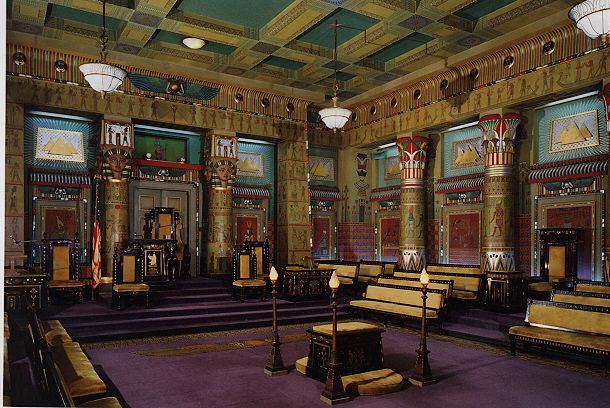 Egyptian Hall
As something of an amateur classicist, my own favorite was the Corinthian Hall.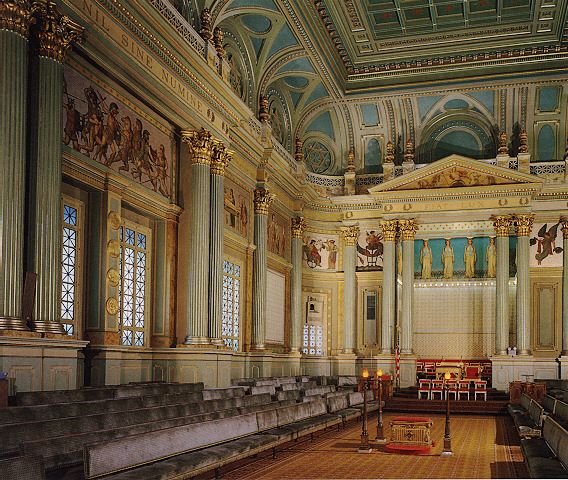 Corinthian Hall
Guidebooks give the Masonic Temple a brief, dutiful mention. Maybe they think Freemasonry is some kind of crackpot or sinister organization and that the Lodge would be of interest only to a few weird people.
I detected a slightly defensive note in our guide's references to Freemasonry. Maybe the guides are tired of answering questions about mysterious rites, secret handshakes, and Knights Templar. Our tour leader said that in his own opinion -- it was interesting that he stressed it was no more than his belief -- the Freemasons did not trace their lineage back to the Templars.

Based on my limited reading on the subject, he is correct in historic fact. But from the beginning of modern Freemasonry in lodges established in England and on the continent in the 17th and 18th centuries, many Freemasons imagined themselves as descended from the Templars. That order of knights, founded in the 12th century to defend pilgrims going to the Holy Land, is part of the masonic collective consciousness, as the Old West is for Americans.