This may seem a diversion, given that we in the Formerly United States have a fateful presidential (and congressional) election in two days. I will have more to say about that in a subsequent posting. Or not.
And I understand that you may be tired of my banging on about Amsterdam, from which I belatedly got back Friday. Well, as a professional writer-editor (a genteel way of saying an employer pays me for it) and a blogger, it's down to me to make the subject interesting. Bear with me -- will somebody please get that bloody bear out of here?
Concertgebouw
The Concertgebouw is as beautiful as any concert hall I've ever seen ... inside, at least. It will celebrate its 125th anniversary next year. Today's marketing mentality can never leave well enough alone, so the building now has an electronic sign on its Victorian facade to promote the next or current show. They've added a cafe and ticket area -- glass enclosed, don't you know -- but so far have not otherwise buggered with the noble edifice.
And, to be fair, the hall where you hear music has been splendidly maintained or restored. Its decor is a kind of hybrid Victorian-Baroque, which according to current taste shouldn't be tolerated, except the original designers didn't believe in that kind of academic piffle so it works a treat.
It was not, you understand, the Royal Concertgebouw Orchestra that was playing -- "Royal" added in 1998, as if it wasn't an aristocrat among orchestras before that, including under its longtime principal conductor, the great Bernard Haitink. (The more crass and demotic our popular culture, the more ritzy institutions insert "Royal" into their names -- the Scottish National Orchestra now bills itself as the Royal Scottish National Orchestra, while Scotland is busy divesting itself of any connection to the Formerly United Kingdom and its Queen. Maybe "Royal" refers to King James VI (1566-1525), the last Scottish king, who became James I of England.
Our orchestra for this evening was the Freiburger Barockorchester, which sounds about as appealing as the Hoboken Pops, but Europe has lots of "provincial" orchestras that can give the Big Name outfits a run for their money.
It was an all-Beethoven program. I don't normally care for single-composer concerts, but I can generously find it in my heart to make an exception for Beethoven.
The Piano Concerto no. 5 was the kickoff and it was, how you say, kind of weird. The soloist, whose name I could hardly spell let alone pronounce, played a pianoforte -- the earlier version of the piano, probably similar in sound to what Beethoven himself played. Hey, no problem. I've come to accept original-instrument, "authentic"-style performances once every few years now that some musicians have learned to play early instruments without sounding like hogs grunting and wet disk brakes. The thing is, the rest of the Freiburg group were grooving on what, as far as I could tell, were modern instruments -- "modern" in classical music meaning late 19th century.
[Side note: In my earlier life as a so-called salesman at Santa Fe Sight & Sound, I had a colleague who was the most musically knowledgeable person I've ever known: not just classical but jazz, pop, "world," you-name-it. He said that one instrument (I have long since forgotten which) in Mahler's scoring has since been updated, so that technically it would be possible to do an "original instruments" Mahler symphony. Was he pulling my leg?]
In principle I have no objection to mixing artistic styles -- see the comment about the hall's design above -- but musically I thought it was a problem in this case. A pianoforte produces nowhere near the volume of a concert grand, hence the orchestra had to curb its own sound so as not to cover the soloist. The players seemed a little uncomfortable with this watercolor Beethoven, sounding inhibited and shy of the proper grandeur.
Things picked up after the interval. Next on the program was the Triple Concerto for violin, cello, and keyboard. Critics tend to be dismissive of this piece, and I'm not sure why. Admittedly it's not in the Olympian category of the piano concertos three through five or the violin concerto, but it still has that majesty we depend on with middle-period Beethoven. Some of the greatest soloists in history have felt it worth their time -- for instance, Sviatsolav Richter, David Oistrakh, and Mstislav Rostropovich, who recorded it with Karajan and the Berlin Philharmonic.
The orchestra, perhaps tired of being musical furniture, whipped up a right frenzy. One of the advantages of hearing music played at a concert is that you get a sense of the instrumental placement that can be lost in even excellent recordings. I had never realized how much of this concerto is like a duet for the violin and cello soloists. (Are they always positioned right next to each other?) But Anne Katharina Schreiber (violin) and Jean-Guihen Queras (cello) knew it. They paid more attention to each other as they played their roles than they did to the score, clearly determined to be in perfect rapport, and they succeeded. I don't know what their relationship, if any, is offstage, but they seemed to be musically in love.
Last up was a fine Fifth Symphony.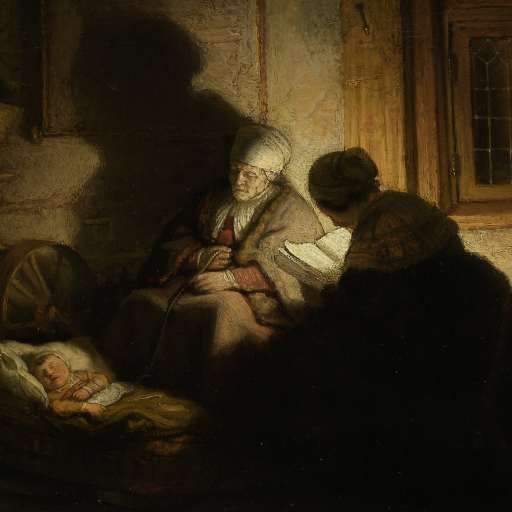 Rembrandt, "The Holy Family"
The Rijksmuseum
The temple of Dutch art was undergoing a thorough restoration four or five years ago when I was previously in Amsterdam, and so it remains. Like the Concertgebouw, this is a stately 19th century building, a Gothic Revival-Renaissance Revival work of art in itself. I worry what they will do to the interior in this big-time rewrite ... please, please no glass elevators, video monitors, paintings arranged by some cool-school curator's notion of "themes."
The Rijksmuseum has assembled some of the highlights of its vast collection in a dozen rooms on two floors, still open to the public. Fortunately, what is currently on view includes a selection of Rembrandt masterpieces. The concepts, the designs, the variety of brush and palette knife techniques of the paintings are staggering. The artist could convey scenes of quiet intimacy as well as glorious display, sometimes in the same picture -- for instance in "The Jewish Bride," which scholars now tell us involves neither a Jewish woman nor a bride; it's been retitled "Portrait of a Pair of Old Testament Figures." ... "By any other name."
Also present are several of Jacob van Ruisdael's landscapes of somber beauty. Much as I admire Ruisdael, I have to admit that even in landscape Rembrandt could overtop him. A small Rembrandt painting, scarcely larger than the cover of a hardbound book, shows a rural scene almost uninhabited by human figures. Like so many Ruisdaels, the Rembrandt is a study in lighting contrasts: around the periphery is a dank gloom, but in the center a magnificently imposing tree, spotlit from a break in the cloud cover, glows like a lamp, every leaf radiant with the power of suns and moons.
I could have knelt before the picture in worship: not (only) of the painting, not (only) of Rembrandt, but of God. Nothing less could have guided Rembrandt's mind and hand as he transformed a piece of canvas into Elysian Fields, cold and northern and saturated with Eternity.