The Boston Police, state police, feds and whoever else was involved approached their task in the spirit of how we sorted out millions of Germans, Japanese, and Italians in World War II. Too bad we can only do this now when hunting down a 19-year-old kid.
Some people are already second-guessing the law enforcement tactics. They say it was an over-reaction to put a whole city in lockdown, that it made us look vulnerable. Well, we are vulnerable. The reality is that Al Qaeda and their brother organizations at war for Allah can easily recruit dimwits to do their dirty work, and that work involves killing and maiming civilians in the ordinary course of their lives.
I don't see what alternative the cops had. A presumed killer was at large, there was no way to know what weapons and explosives he carried or whether he was part of a cell with a safe house. The law forces behaved as if there was only one acceptable end, capturing or killing the suspect, period. They seem to have acted with discipline and good sense. Did it set a dangerous precedent for civil repression by police kitted out like battlefield soldiers? Maybe. But this time they were doing a legitimate job while making every effort to keep the public out of harm's way.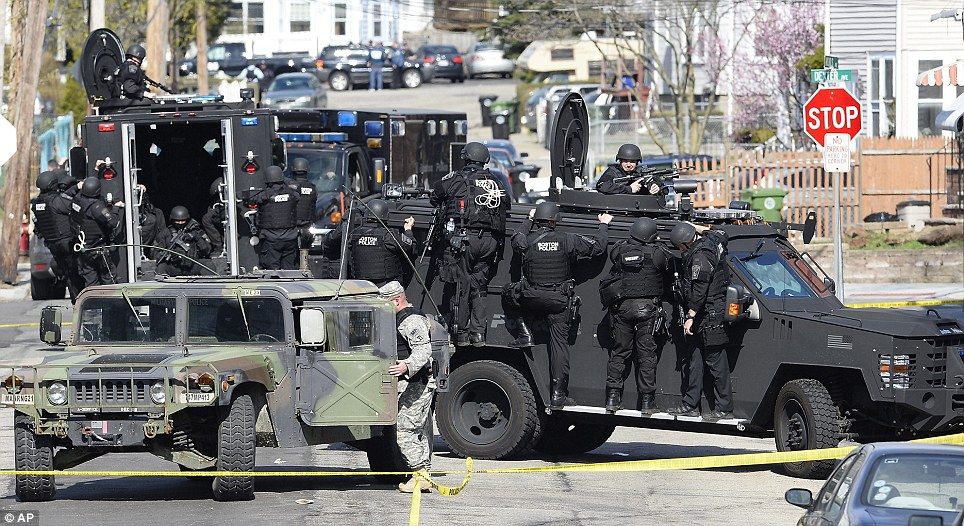 The irony is that it is now our domestic police who in many cases look and act like armies; our armed forces in places like Afghanistan and Iraq shoot if they must but otherwise are supposed to be Girl Scouts and Peace Corps volunteers, winning through good behavior plus building schools and water treatment plants. No wonder so many of the locals express their respects through IEDs, contemptuous of people who don't know how to fight. Our deluded soldiers, sent by the neocons to the middle east, expected pretty girls to be handing them flowers like during the liberation of France. Instead they found themselves looking around for their missing limbs.
You can't make war genteel. You can only avoid it -- usually the best policy -- or win it.