Until recently, the piano -- like many other musical instruments -- hadn't changed much since the latter part of the 19th century. That was then. This is now.
It's not a synthesizer but a traditional (in sound) concert piano from the prestigious German manufacturer Schimmel. The perfect gift for your Liberace-in-training nephew.
This sporty model also appeals to the young virtuoso set. Rumor has it that Lang Lang bought one for his idyllic retreat 20 miles north of Gander, Newfoundland.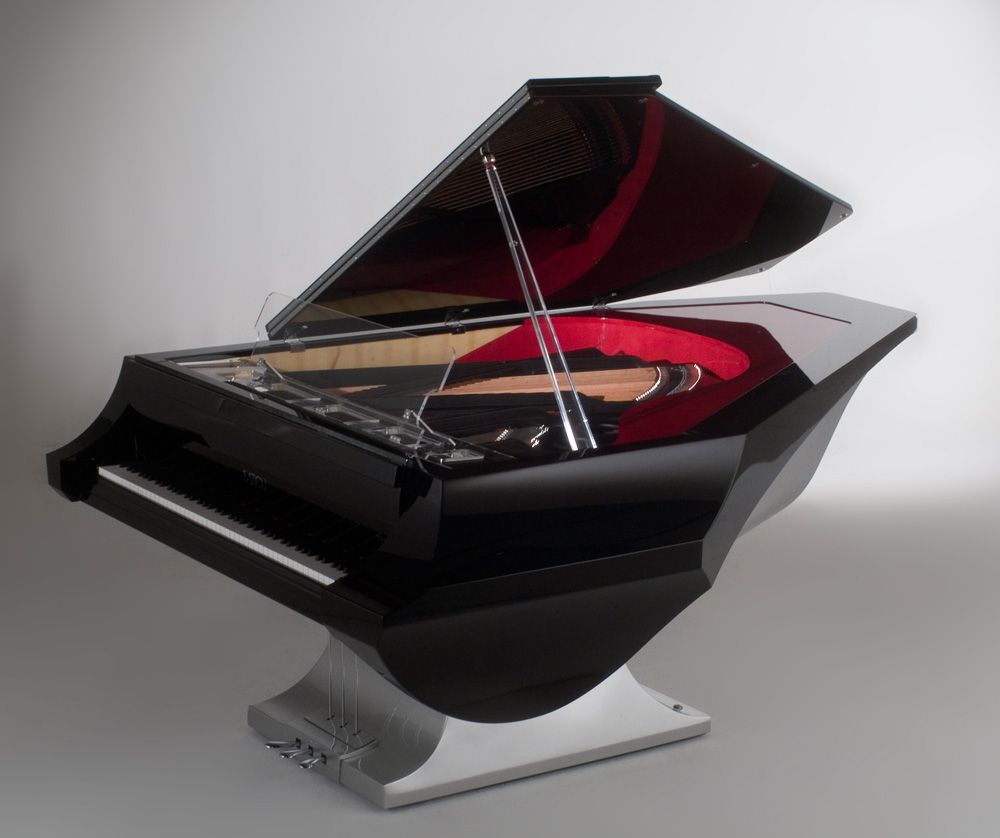 From turbojet manufacturer Land & Hudson, this model includes a plexiglass head-up display. In lieu of a paper score, the pianist reads the notes projected electronically on the screen. Another feature nervous soloists will appreciate: the unit contains a sensor which can tell whether the operator is about to play something wrong. In that case a red LED illuminates and the readout flashes various messages, such as "PULL UP! PULL UP! Your left index finger is two keys below position" and "TOO SLOW APPROACH TO B minor 7th chord."
Unfortunately, the designer Sir Reel Blogg-Sweeney reckoned without the Union of Page Turners (motto: "One Good Turn Deserves Another"), which has sought an injunction and threatened to picket any concert using this piano.
Designed primarily for social gatherings, this piano serves not only for music and as a fashion statement with its Swedish sub-minimalist aesthetic, but can accommodate up to seven drinkers (or eight if the pianist is indulging). The case includes a liquor storage cabinet and concealed wine bucket.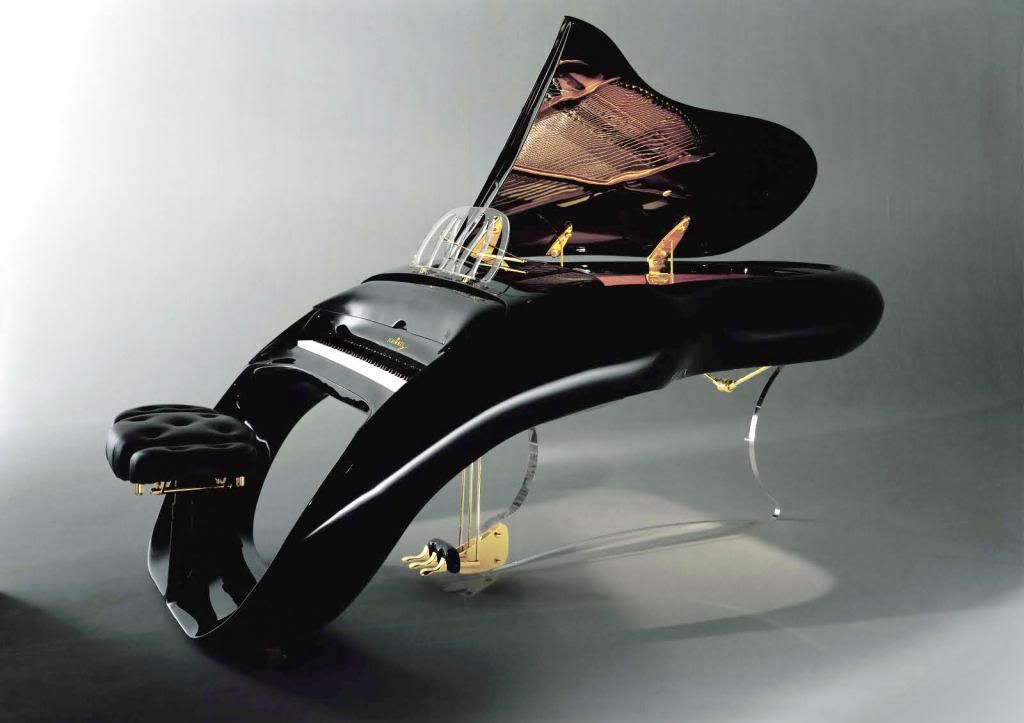 A variant on the first Schimmel model, but with lacquered wood from the ultra-rare Bangladesh Sudoku Tree.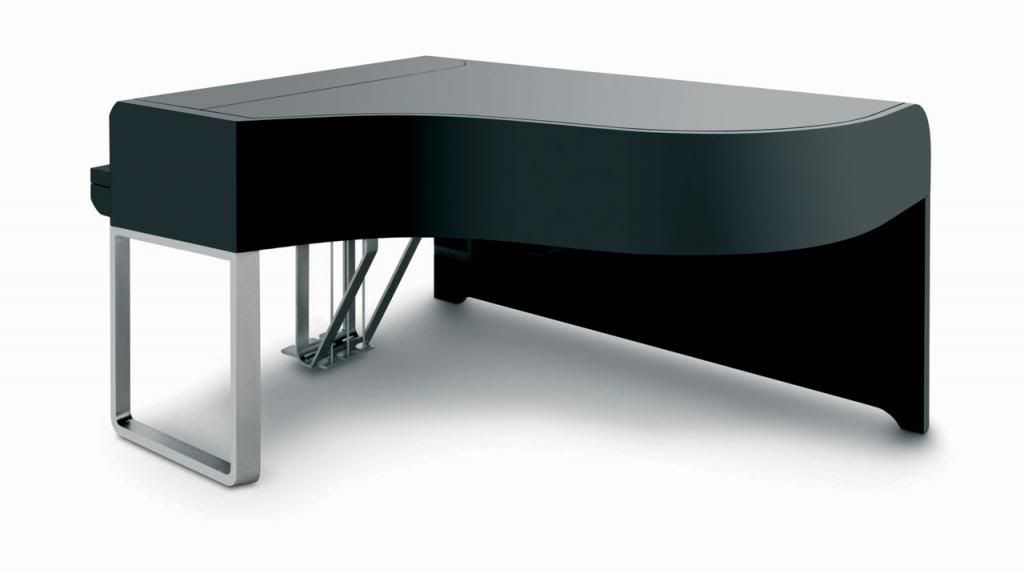 Not merely a triumph of pure form. A technological marvel lies beneath its graceful contours.
Feeling tired, Lisztless when you sit down to play? No worries! This honey has got your back, with its PowerKey™ function. Play-by-wire controls supply the oomph. You just supply the fingering!
Want to record your performance? You can skip the tedious microphones, cables, amplifier, and mixing board. Every time you touch a key, this model makes a note of it.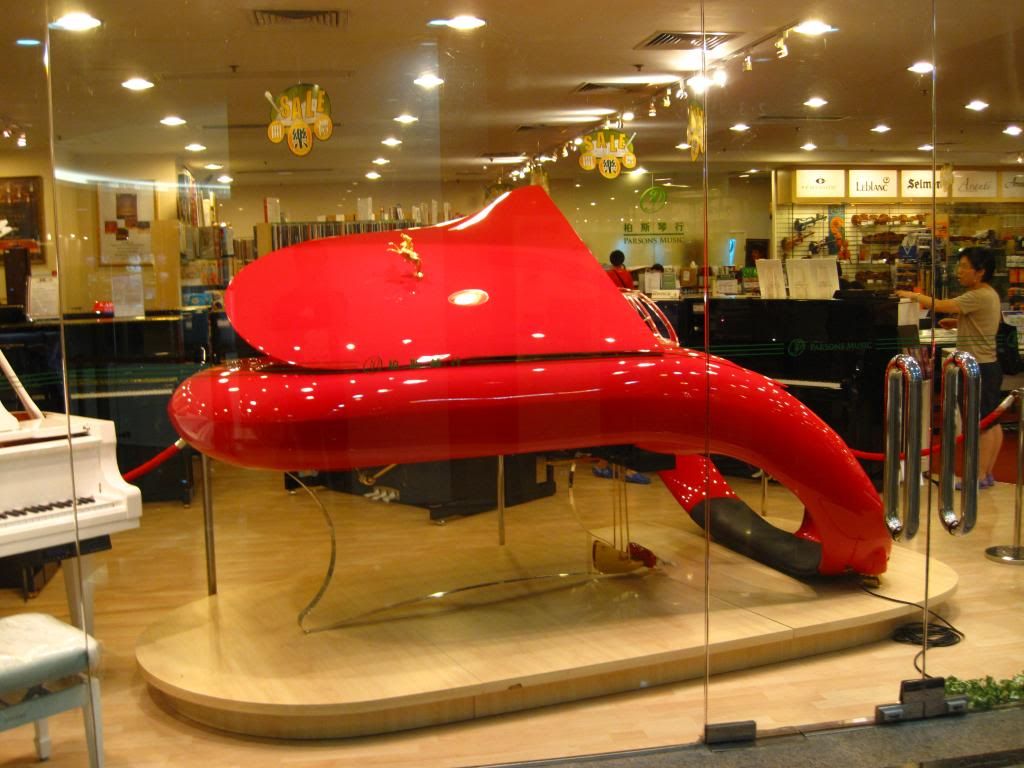 If you like being the center of attention, this Zinger 3SE is just the job for you. From the brain of a former Porsche engineer who took some curves a little too fast -- it is not known what happened to the lady in question -- and has been holding court in a Swiss sanatorium for the past 25 years, the 3SE is steady on the bumpiest scores.
Here, take the keys. Go on, you know you want to! Take this baby out on the Immanuel Velikovsky Memorial Freeway, and pass every other pianist on the road like they're standing still. Whip it! You can do the whole Rachmaninov Second Sonata and the Zinger 3SE won't even be breathing hard. When you get back to the showroom you'll be begging me to get you on the waiting list.