Whatever you believe about the theological meaning of the Christmas holiday, it is spiritually symbolic that it comes around the time of the winter solstice, which was instinctively felt to have a deep significance even before Jesus appeared on earth. It was the longest night, a time that encouraged introspection, when more sensitive souls often felt an equivalent bleakness within.
And just when, to our most untutored and unphilosophical emotions, the darkness seemed to be closing in, a miraculous reversal began. The tide of light again started to climb the shores of our lives.


Once again we find ourselves in that season when a mystery tugs at our hearts, reminding us that however much we may fear the dark in our souls, it will never gain a complete victory over the light, a light that shines forever because it is not of this world.
I wish you all a merry Christmas or whatever you celebrate, even if it is only a voiceless whisper that impels you, against all your selfish resistance, toward love.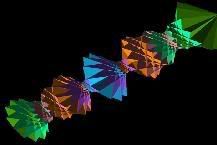 Go ask your neighbours to come and sing songs,
You know they've wanted to all along.