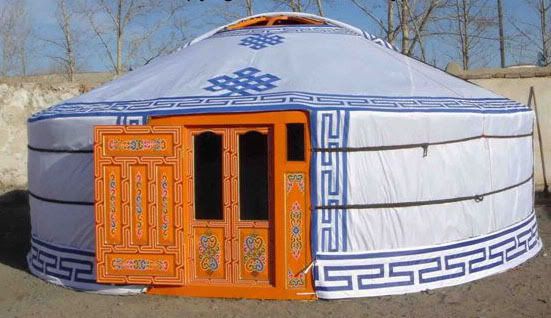 Model home, Washington suburb
"
Builders Are Catering to Area's Increasing Immigrant Population"
—

Washington Post

, December 19


The immigration marching band leaders at
The Post
can scarcely contain their glee. Just as the housing industry is about to go under for the unforeseeable future, new saviors have arisen: immigrants who want to recreate their countries of origin on U.S. soil. The main headline to the story gives it away: "Homes with a bit of homeland." Homeland, you see, is … well, not here. Practically anywhere but here (as long as the immigrants are from a culture as different as possible from that dreary old white-bread, pitchfork-leaning indigenous America).
Of course, the immigrant residents-for-commerce won't be having any of those tiresome colonial or craftsman revival homes.

The Post

says:

As the Washington region's population of foreign-born residents tops 1 million, the influx is changing the way homes and subdivisions are built. Custom home builders are planning prayer rooms for Indian families and using feng shui, the Chinese art of home design, for Asian customers. They're fielding requests for white brick and mortar, rather than bricks made from Virginia clay, from customers who want to evoke the sun-baked dwellings of their Middle Eastern homelands. …





Foreign-born residents make up a growing share of U.S. homeowners at all income levels, but particularly first-time buyers, according to Zhu Xiao Di, a senior research analyst at the Joint Center for Housing Studies at Harvard University. Locally, foreign-born residents make up about 16 percent of recent home buyers in Maryland, 15 percent in Virginia and 12 percent in the District, according to the center's analysis of U.S. Census data.
Our rulers — for we primal Americans are no longer citizens, just embarrassing old relatives to be pushed out of the way to make room for new "Americans" — continue their nonstop campaign to turn the United States into part of Latin America.
Nationally, former U.S. Housing and Urban Development secretary Henry G. Cisneros is spearheading a movement to design homes and communities that will appeal to the Latino consumer, the fastest-growing segment of the population.

Last year, he edited a book on the subject, "Casa y Comunidad," for the National Association of Home Builders. The book advocates residential construction that meets the Latino community's needs, adding space for in-law suites for elderly parents and larger kitchens with roomier pantries and gas stoves. ("Only a gas oven works well for tortillas," the book says.)
Don't look for much tranquility in these new "vibrant" suburbs.
[A developer] learned that about 50 percent of likely buyers for their New Bristow Village community in Prince William County would be Latino families and other foreign-born residents, so they introduced a model with a den that could be converted into a bedroom for grandparents and a connected living and dining room that would give more space for large family parties.
How long do you think it will take before these tortilla-friendly domiciles are each housing four families, 17 kids, 10 grandparents, 12 low-rider cars, five motorcycles and seven pit bulls?
No day goes by when I don't see or read something that has me shaking my head and asking: Why do our rulers (corporations, mainstream media, academia, the federal judiciary, and the rest of the usual culprits) want so much to marginalize our indigenous population? Non-immigrant Americans are becoming a feeble minority quicker than you can toss another tortilla on the gas stove.