Trying to analyze the fascination of cats is probably hopeless. You get it or you don't. Why should they be so much more intriguing than other animals? Maybe they aren't — maybe all creatures are fascinating if you get to know them. There's that blonde Englishwoman, quite a dish in her prime, who has spent her life relating to orangutans and such.

I

don't get

that

, but maybe she thinks my preference for cats is hopelessly bourgeois and unadventurous.

Could it be the complex and contradictory nature of cats that is compelling? They are extremely loyal to the people they live with, but can seem distant, self-contained. They're soft, seemingly gentle, but ruthless killers. You think they're sound asleep, well lost to the world, then in a second they're as alert as a Secret Service agent. Seen from the front, they look so serious; from the side, they seem to be smiling.

Surely cats are among the most beautiful of animals (except for those hairless or spider-legged monsters bred by mad scientist "cat fanciers"). So graceful, so …

flexible

: it's amazing to see them sprawled on the floor, front paws in one direction, back paws in the opposite, apparently perfectly comfortable. What must it feel like to be able to scratch your ear with your "foot"?



Cats are lunar,

yin

, inward. They

know

things, and remind me of Walter Pater's famous description of the

Mona Lisa

(which painting, incidentally, was obscure until his purple Victorian prose caught the art world's imagination and eventually trickled down to the masses):

She is older than the rocks among which she sits; like the vampire, she has been dead many times, and learned the secrets of the grave; and has been a diver in deep seas, and keeps their fallen day about her; and trafficked for strange webs with Eastern merchants; and, as Leda, was the mother of Helen of Troy, and, as Saint Anne, the mother of Mary; and all this has been to her but as the sound of lyres and flutes, and lives only in the delicacy with which it has moulded the changing lineaments, and tinged the eyelids and the hands. The fancy of a perpetual life, sweeping together ten thousand experiences, is an old one; and modern philosophy has conceived the idea of humanity as wrought upon by, and summing up in itself, all modes of thought and life. Certainly Lady Lisa might stand as the embodiment of the old fancy, the symbol of the modern idea.
Above all, cats are mysterious. I would not change that for anything. But let me put a few questions on the table, in the hope that you who are more knowledgeable or wiser than I can shed some light:


Why do cats purr?
It seems like the answer should be obvious, but it isn't. This strangely comforting sound and vibration has no obvious survival value.


Why do they raise and lower their front paws alternately when they first climb in your lap?
Why do they like the taste of fish?
In a state of nature, cats — who avoid water — would rarely have the opportunity for a fish dinner.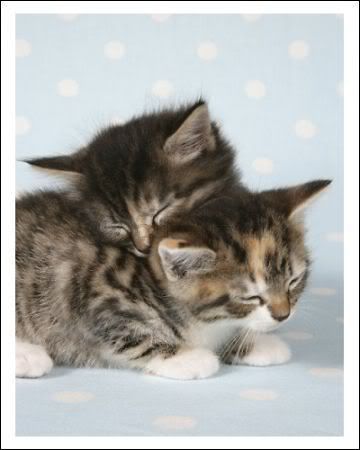 How can a kitten make you believe, despite all your experience, that goodness and innocence are more real than their opposites and will ultimately prevail?

What is a cat looking at as she follows an invisible object in the air with her eyes?
Are cats more psychic than most people? Do they see spirits?
Why do cats so enjoy having their cheeks rubbed?
Answers, or even speculations, please.