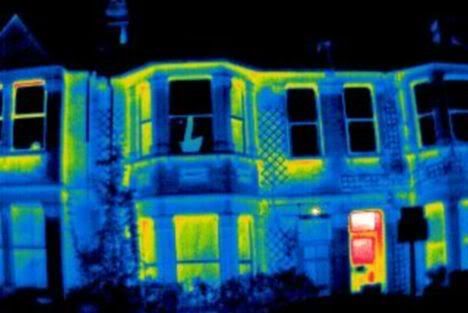 Heat crime scene
I've more or less given up adding to
Reflecting Light
's stockpile of "Britain self-destructs" postings. No more evidence is needed that what Lawrence Auster calls the Dead Island is run by and for loony Marxist-minded control freaks with a sadistic bent, determined to ruin the lives of all remaining non-criminal citizens who retain their full complement of marbles. Once in a while, though, it may be useful to select (more or less randomly) some typical bit of harassment by public service wasps whose mission is to buzz around until the sanity of their victims gives way like a dam in a 100-year flood. This is what the nanny state is all about, and what leftists believe is the highest form of government.
You know, of course, that the U.K.'s miserable inhabitants can be fined if their trash bins are not exactly
comme il faut
. That has nothing to do with genuine nuisances like littering, mind you, but such offenses as not separating items out correctly. Well, here's a new entry in the Nag the Populace Competition, per the invaluable
Daily Mail
:
Town hall chiefs are sending out an army heat detector vans to take thermal pictures of homes and then confront owners with evidence that they are wasting energy. Tens of thousands of homes have been photographed at night over the last few months using cameras which reveal where heat is escaping from windows, doors and roofs. Council bosses hope the images will shock householders into plugging up gaps in draughty windows and doors, and persuade them to insulate their homes.




The company behind the taxypayer funded Heatseekers scheme hopes to survey every home in the country in the next few years.
Actually, it's not (yet) a crime in the U.K. for your house to shed heat, but you can be sure of getting a snide notice from the cutely named Heatseekers, and you'll probably go on a list of individualist reactionaries to undergo special scrutiny in the future.

Two or three weeks after the van has passed down a street, householders get a copy of the thermal image and a letter explaining how they could save money on their bills. Some also get a visit from a door to door consultant, giving more advice.
"Consultant"? "Advice"? That's called selling where I come from. So in other words, these local government councils have a palsy-walsy agreement with a private company to go around checking up on people's homes and then hit them for insulation business — with the program funded by taxpayers' money.
This is far from the worst outrage British people have to put up with from their masters at every level of government, from Whitehall down to the bobby on the beat who's always alert to catch any "incitement to racial hatred" (i.e., complaining about the forced ethnic remaking of their country). But it shows just how thoroughly government influence and control seeps into every crevice of people's daily lives. For their own good, of course.