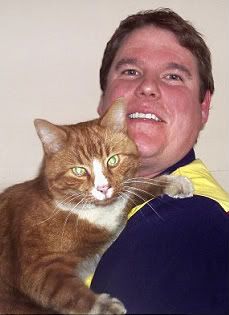 Let's face it: reading blogs, like reading newspapers or watching TV news, can be pretty depressing. The news is mainly about bad stuff ("If it bleeds, it leads"). Bloggers are most inspired — well, most energetic — when they're angry, critical, viewing with alarm. Too much of it can bring down the blogger or the blogged.

So here's a story that's both remarkable and heartening. From the

Daily Mail

:

A pet cat who went missing when let out for a night-time stroll has been reunited with his owners - after hopping on a ferry and enjoying a 1,400 mile round-trip to Spain.

Ginger tom Sandi was discovered by stunned ferry staff under a lorry as they prepared to unload the Pride of Bilbao, which had travelled from Portsmouth, Hampshire.
Crewmembers took Sandi to a veterinarian, who identified him from an embedded microchip. His owners in England were located, and he received a return trip courtesy of the carrier, P & O Lines. Not only that: on the way back, Sandi got the red carpet treatment.
For the return journey he was fed a special menu of salmon, chicken and milk and had an ensuite cabin with sea view, which usually costs up to £266. Crew members paid hourly visits to his room during the 36 hour sailing to give him a stroke and to ensure he remained comfortable.

They gave him his own pillow and donated one of their warm jackets. And the ship's captain, Alastair McFadyen, even found time to visit the stowaway.
So Sandi is back home after an adventure, a happy ending.
Yes, I expect the P & O public relations office jumped at the chance for favorable publicity and arranged the de luxe accommodations. Who cares? Everyone involved in this did what was right for the cat, and more than they had to.
At their best, humans are a Grade A species.