Fifty-six percent of Americans polled last week said that "
the federal government's become so large and powerful that it poses an immediate threat to the rights and freedoms of ordinary citizens." An
immediate threat
.
According to an archaic document —
the Tenth Amendment to the Constitution —
recovered from the ruins of Washington,
"
The powers not delegated to the United States by the Constitution, nor prohibited by it to the States, are reserved to the States respectively, or to the people."

So what is our national government up to that the states or the people cannot do for themselves? Some good things: national defense and … uh … I'll get back to you on that. Some bad things: Control of the currency. And others that are useless; or full employment programs for bureaucrats and designated victim groups; or settings for plum jobs given to big-time campaign contributors; or … the word bizarre comes to mind.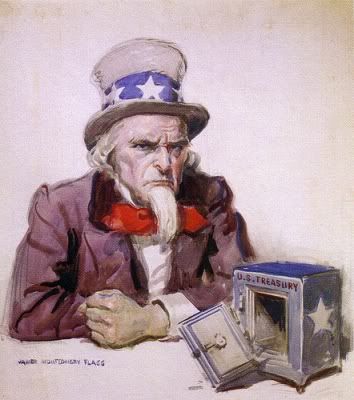 Uncle has maxed out his credit cards, but that doesn't stop him from the swift completion of his self-appointed rounds. Let us go where angels fear to tread, and have a look at current agencies of the federal gov't.

Ready? As the USA.gov site says, "Government made easy."

There — that's not such a long list, is it? Oh, wait. Those are only the agencies whose names begin with A. Let's take a stroll through the alphabetical listing.

To be clear: Many of these agencies have worthwhile goals; some can occasionally boast of genuine accomplishments; a few perform services that the states or the people could not efficiently do for themselves.

If you are floating in the bliss of

nirvikalpa samadhi

, or have just poured yourself a tot of whiskey, or are otherwise feeling no pain, the chances are you will be okay as we sample these agencies funded by your tax dollars, should you happen to be among the "fat cat" 60 percent of Americans who pay taxes.

Administration on Aging. "Global Connections United Nations Television Interviews AARP President Jennie Chin Hansen and Kathy Greenlee, Assistant Secretary of Aging, U.S. Department of Health and Human Services"; "AoA Announces First Annual 'Excellence in Action' Awards"; "
U.S. Administration on Aging to hold Public Input Session for the Reauthorization of Older Americans Act, S
eries of forums being held to
[sic]
throughout the country."


U.S. Merit Systems Protection Board. "MSPB Redesigns Its Web Site"; "The MSPB Allows Leniency in Meeting Filing Deadlines"; "MSPB Announces Chief of Staff and General Counsel Appointments."

Grain Inspection, Packers & Stockyards Administration. "GIPSA Ensuring Swine Contracts Comply With Farm Bill Requirements"; "Guidance to Live Poultry Dealers [do any of the dead deal in poultry?] on Arbitration Provisions in Contracts"; "In Troubled Times: Financial Protection for Livestock Producers and Poultry Growers."

Open World Leadership Center. "
The Open World program has tremendous potential to help Tajikistan's future leaders exchange ideas and experiences with communities in the United States. — Ambassador Tracey Ann Jacobson, U.S. Ambassador to Tajikistan"; "Russian Leaders Examine Accountable Governance and Youth Programs in Central Ohio" [Listen up, Putin!]; "Prize-Winning Alumna Films in Antarctica."
Vietnam Education Foundation. "We are pleased that you have learned about us and have chosen to visit our website." You're welcome. "Announcement: VEF 2010 Fellowship Program for Process B (for applicants with school admission)."
Office of Community Oriented Policing Services (COPS). Your blogger would have thought that community-oriented policing would involve keeping Washington as far from the community as possible, but no. "The COPS Office serves a noble purpose. In alignment with our component partners within the Department of Justice, our mission is to create safer communities across this country through the advancement of community policing."
"
Reducing Fear of Crime: Strategies for Police
:
This guide provides a comprehensive review about the phenomenon of fear of crime as well as historical and contemporary police efforts at fear reduction. The main focus is on tools and techniques that police can use to target fear of crime, reduce fear, and institutionalize fear reduction within their agencies. Promising practices are identified—these are strategies and programs that make sense, that have been implemented, and that have been tested and shown to be effective—to illustrate possible ways to address fear of crime."

Not reducing crime — reducing public

fear

of crime, which is a nuisance for police management.

But fear of crime, within reason, is good. It discourages citizens from going into bad neighborhoods and encourages them to be aware of threats. It means being prepared for self-defense in case of carjacking, robbery, or burglary. Presumably COPS believes self-defense is not for ordinary people; it's a highly technical specialty, best left to professionals with the appropriate academic degrees and badges.

Uncle: I know this is a sensitive issue, but perhaps you'd feel better if you went on a diet. I know I'd feel better if you did.