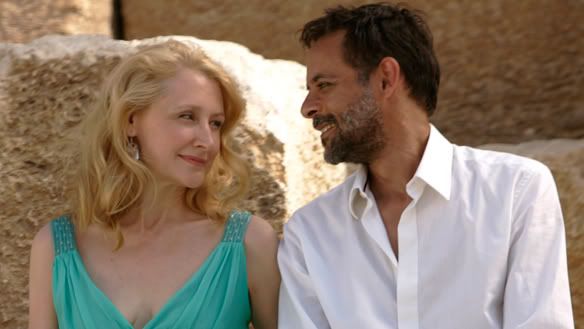 Cairo Time

shouldn't be dismissed as a chick flick. Or if it is, it's a good one.
The storyline is slight enough. Juliette (Patricia Clarkson) arrives in Cairo expecting to be met by her husband Mark, who is some kind of official with an aid agency, but he has been called to Gaza and delayed getting back to Cairo. Instead, Juliette is met by Tariq (Alexander Siddiq), a former colleague and friend of her husband. As she waits in her hotel for Mark to return, time weighs heavily. Juliette and Tariq connect again; they pass the time in various exotic locations in the city and surroundings; an is-it-or-isn't-it? romance develops between them.


Above all,
Cairo Time
is Clarkson's film. I've admired her in everything I've seen her in, starting with the TV series
Murder One
in the mid-'90s. Her Botticelli-angel face and clarinet-toned voice are memorable, but she is a humdinger of an actress as well, and her abilities are much on view here.
She can play "on the lines" when the script gives her anything special to work with, not that often in
Cairo Time
, but also has the rarer capacity to reveal her character between the lines. You can observe how she works in the very first scene, at the Cairo airport. She instantly (almost) conceals her surprise when Tariq, rather than Mark, shows up; she is gracious to Tariq, and you sense that it's not only out of politeness — and certainly not attraction yet — but because of her innate decency; and without being obvious, she also lets you know she's groggy and jet lagged from the flight.
Her performance in this film reaches its height in an almost wordless scene toward the end. I won't describe it since it might be a spoiler. You'll know which I'm talking about.
Siddiq's character isn't particularly well developed; we meet his former lover, Yasmeen, and pick up a few details along the way, although his inner life remains something of a mystery. But Siddiq, too, is a good actor and invests the part with enough magnetism that Juliette's attraction to him is believable.
There's an interesting scene where Juliette wanders into a mosque (would this actually be allowed?), but other than Tariq identifying himself as a Muslim, references to Islam remain subdued. That seems like a reasonable artistic choice. To delve into the social, political, and religious implications raised would be to turn

Cairo Time

into a different kind of movie.



Director Ruba Nadda is a new name to me. Nothing about her work here is outstanding — unless it was partly responsible for the excellence of the leads — but she doesn't make any major goofs, either.

The city, of course, plays its own major role, although it strikes me as rather unreal and glamourized. (I've never been to Cairo, but I know people who have.) The swank old palace of a hotel Juliette inhabits is colorful, though I suspect typical only of very-high-end rich-foreigner Cairo. A romantic scene at the Pyramids of the couple, who have the place almost to themselves, seems absurd: tell me a time from sun-up to sundown when there aren't 20 coaches parked on site and tourist group armies.
Atmospheric cinematography, in a 2.35-to-1 (widescreen) aspect ratio.