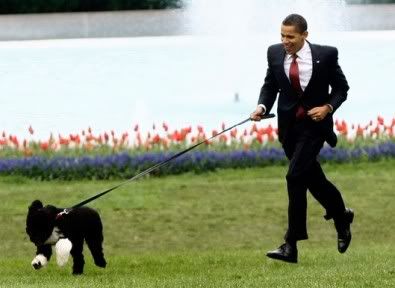 White House occupant leads unidentified figure in a moment of lighthearted sport.
The Supreme Leader, Barack Hussein Obama,
complains
that
lè
se majesté
is in the air. He showed his canine teeth to those who disrespect him.
"Some powerful interests who had been dominating the agenda in Washington for a very long time and they're not always happy with me," he told a union crowd in Milwaukee. "They talk about me like a dog. That's not in my prepared remarks, but it's true."
They talk about him like a dog? Where did he get that idea? I've
never
heard a dog say a word about him.
But when the mainstream media talk about you as God, you'd better not stand near any mirrors, which will reflect your name as Dog.
I agree with him, it is disrespectful to talk about Obama like a dog. That's why I've referred to him as President-for-Life, the Messiah, Imam Obama, His Worship, and The Emperor.
Describing him as a dog is completely out of line. A dog is man's best friend. A dog is loyal. Your Worship, I'm sorry I hurt your feelings. That line about hoping the voters keep you on a short leash was just a metaphor, believe me.