Have you seen the old man
In the closed-down market
Kicking up the paper,
with his worn out shoes?
In his eyes you see no pride
And held loosely at his side
Yesterday's paper telling yesterday's news.


And have you seen the old man
Outside the seaman's mission
Memory fading with
The medal ribbons that he wears.
In our winter city,
The rain cries a little pity
For one more forgotten hero
And a world that doesn't care.
So how can you tell me you're lonely,
And say for you that the sun don't shine?
Let me take you by the hand and lead you through
the streets of London
I'll show you something to make you change your mind.
— Ralph McTell, "Streets of London"
When Ralph McTell wrote his song in the 1960s, the tragedies of London were still about individuals, because despite decades of socialism and quasi-socialism, it was still a society of individuals. Another 40 years have changed that. Now the tragedy on the streets of London is a tragedy of mobs.
I don't really care that much if Prince Charlie — that's Dhimmi Prince Charlie, not to be confused with Bonnie Prince Charlie, the "King Across the Water" in exile after 1745 — had his limousine window smashed, or the Duchess of Cornwall is crying her heart out at being photographed with her mouth gaping open like a tunnel.
Sic semper dhimmitis.
It does bother me right down to the ground to see a loutish "protester" tearing the flag from the cenotaph in Whitehall that memorializes the soldiers who went to France in the Great War and never came back.
And to see another pissing on the base of the statue of Winston Churchill, without whom this moron would probably have no freedom to protest anything, because he would be living in Das Englische Reich.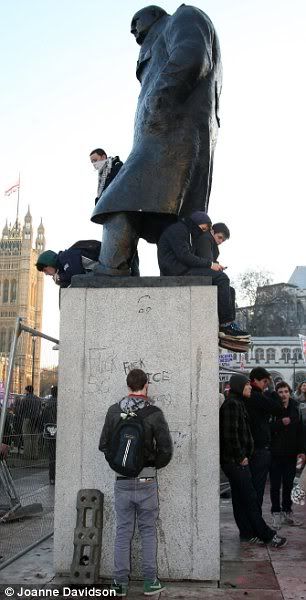 An eyewitness to the madness, Paul Harris,
writes
in the
Mail
: