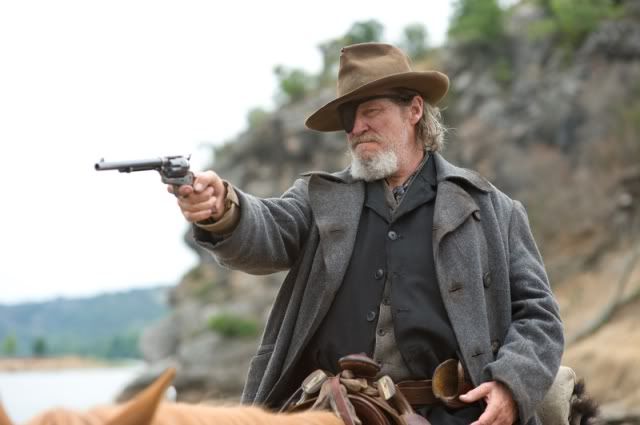 True Grit
has gotten a big hunk o'love from people who watch movies and write about them for a living, and I think it's been much inflated because it comes from the writing and directing team of Ethan and Joel Coen. The Coens have managed to make themselves larger than life in the film-crit world, although they usually leave me unsatisfied (see my take on their
No Country for Old Men
here
).
Nevertheless, I watched
True Grit
in a real movie theater, rare for me (I much prefer DVDs in my home theater). For one thing, I had the week off from work, so I didn't begrudge the time wasted on previews and ads before the feature. For another, I'm still dead keen on Jeff Bridges, even though I was distressed by his over-the-top characterization in
Crazy Heart
.
Actually, his Rooster Cogburn in True Grit is somewhat along the lines of his cowboy singer in Crazy Heart — aging, dissipated, ornery. He's dialed down the mannerisms somewhat this time along, and the role, which never strays far from cliché, is at least genuinely inhabited. Plus, there are a few of those moments when Jeff Bridges does what Jeff Bridges does and it's hard to imagine them issuing from anyone else.
Don't ask me to compare this True Grit with the original starring John Wayne, which I've not seen. There's too much comparison shopping among the cognoscenti who review movies anyway. I am writing about the 2010 movie on its own terms.
Of the other actors, the highlight is Hailee Steinfeld, as the 14-year-old Mattie Ross who enlists Rooster in her quest to bring to justice the villain who killed her father. Having a young girl speak every line like a lawyer or orator palls quickly, but Steinfeld is lively while suggesting intelligence and understanding beyond her years. Matt Damon, a Texas Ranger on the make who is an on-and-off companion to Rooster and Mattie in tracking down the killer, was quite unrecognizable as the star of The Bourne Ultimatum and The Bourne Identity, which I guess is an accomplishment. But, getting no help from the Coens's script, he occupies negative space. In contrast, a character actor who plays a defense lawyer in a brief trial scene shows how to make something out of nothing.
I found True Grit reasonably entertaining. Why can't I summon up much enthusiasm for it? My impression is that the Coens didn't bring much ambition to the project, which shows. For every scene that lights up, two or three others slog along routinely. They indulge in some hackneyed shots, like a horse and rider silhouetted against a sundown sky. The exterior shots of Fort Smith, Arkansas, in the 19th century are oddly unconvincing. I gather from the credit roll at the end that they were filmed at the old-west lot near Santa Fe, but since Santa Fe doesn't look like Arkansas, the background had to be re-created with computer graphic imagery. Not very well, though — it resembles the painted backdrop to a sound stage set in a '50s movie.

That kind of symbolizes what bothers me about the Coens: they are "concept" men making Big Idea movies, and can't be bothered with shadings and details.
Incidentally, the print shown at the technically advanced theater where I saw it still had those glitches in the corner of the screen to tell the projectionist to switch projectors at the end of a reel. I thought all theaters now use continuous spools, not multiple reels.