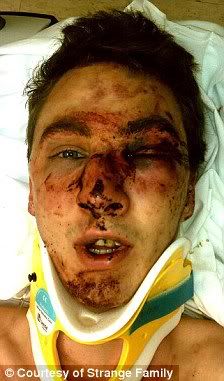 News accounts of the near fatal beating of a young white man in Columbia, South Carolina, by a group of black teenage thugs:
Vicki Strange's voice never quivered as she described racing to the hospital in the wee hours to get to her 18-year-old son, Carter Strange. She recalled standing in the emergency room and seeing a man on a gurney being wheeled down the hall, thinking, "That poor man."




As nurses wheeled the man closer, Vicki Strange thought his hair looked familiar. Then she noticed the hands. "It was his hair and his hands, but the rest of him did not look like my son," she said.