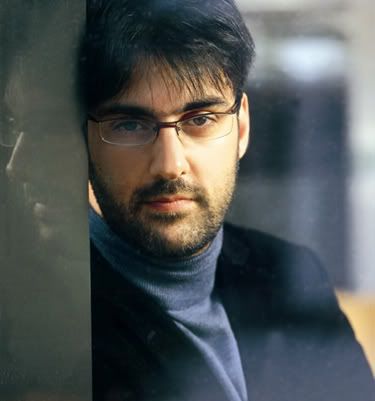 This weekend I was fortunate enough to be in the audience for Leonidas Kavakos's performance of the Brahms Violin Concerto. Kavakos is one of the world's top classical violinists, as well as one of a very few Greeks currently earning a good living.
Row C -- yes, three rows from the stage -- was a cracking location for seeing as well as hearing him. Kavakos didn't have the somber appearance I expected from his publicity photos, including several on covers of CDs in my collection. He looked quite the middle-aged hippie: shoulder-length hair and a dark silk jacket embossed with what I think were Chinese designs. He made a strange contrast with the conductor on the podium next to him, Christoph Eschenbach, whose head is shaved bald.
Comparisons with other violinists or recorded performances of the Brahms would be pointless; anyway, a live performance is a whole different experience to a recorded one, especially if you're close to the action as my wife and I like to be. I will say this: almost from the moment Kavakos touched his bow to the strings, I was confident this would be extraordinary.

Honestly, I don't know how any human being can play with such virtuosity. You know you are in the presence of greatness with a performer in any field if you can't take your eyes off him. During the first movement cadenza (it seemed familiar, so I guess it was the usual one by Joachim) I literally held my breath for long moments, as if the magic might be dispelled by any action on my part.
Kavakos has been panned in several American Record Guide reviews on the grounds that he is technically brilliant but cold and abstract. It's true this wasn't a gushing, heart-on-sleeve reading. He didn't go in for much vibrato. There is no doubt that he could have applied a richer tone if he'd wanted to, so his style in this piece was clearly a considered decision, and a defensible one: Brahms was German, after all, not Italian. Anyway, Kavakos gave us moments of great delicacy and colorful shadings.
Bravissimo!

It was also the first concert I've attended when its music director, Eschenbach, conducted the National Symphony Orchestra. I had had a vague prejudice against him. The shaved head, the black smock he apparently always wears on stage seemed very downtown New York, I'm-too-cool-for-this-planet.

I didn't pay much attention to the orchestra during the concerto, being so mesmerized by Kavakos. It was a little surprising that Eschenbach had a score in front of him: this guy has been conducting for decades and needs a score for the warhorse Brahms concerto? But he conducted the second half of the concert from memory, and I concluded that Eschenbach had used the sheet music only where he'd marked it for orchestral effects Kavakos had asked for, or that conductor and soloists had agreed on.

The other item on the program was Beethoven's Pastoral Symphony, which I hadn't been particularly looking forward to -- overly familiar, and not one of my favorites (3, 5, and 7) among the Beethoven nine.
The opening allegro ma non troppo was pleasant but didn't quite work -- maybe it was just a letdown after the intensity of Kavakos's Brahms. The same for the brookside scene, fine playing from the orchestra but it didn't register the way it should have. (In fairness, sitting in the third row means you're not getting an ideal instrumental blend; the strings, being downstage, are more prominent than they might at another location in the hall. It's a price I'm willing to pay to feel in the presence of the soloist.)

With the peasants' merrymaking, things picked up. The hints of the oncoming storm were beautifully realized, and the storm itself was thrilling without going all crazy about it. The song of thanksgiving after the storm and the coda were moving. I ended up with a new appreciation of the symphony and Beethoven -- amazing the emotional mileage he got out of variations on a few simple themes.
Eschenbach's conducting gestures were animated at times and restrained at others, sensitive to the mood of the music at each moment. He seemed wrapped up in the sound, and not showing off to the audience. There was nothing of the poseur in his manner, and much that suggested keen musicianship. I think the NSO is in good hands.