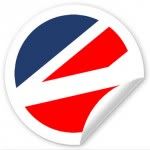 I was initially favorably impressed with what I read about the British Freedom Party at Lawrence Auster's
View From the Right
. I sent Lawrence Auster a comment, which he did not publish:
This is a heartening development, and there have been few enough of those lately.




The policies look to have been carefully crafted, not just in matter but in expression. I don't agree that Britain's immigration problems are about "space, not race" – they're about both – but presenting the immigration question as an economic and cultural issue might keep Weston out of prison in the U.K.'s multi-cultural theocracy.




"Freedom" is a much better word to use in their name than National or Defence – no disrespect meant to the BNP or EDL, but shadings like that matter if they're going to appeal to a middle class constituency. It's too bad the O in "FREEDOM" looks like the Pepsi-Cola logo, but the Web site is otherwise well designed. They were smart not to have Union Jacks and dragons all over the place, images which many people associate with skinheads and hooligans.




Paul Weston comes across in the interview as reasonable, intellectual, maybe a little too formal. But when you consider the kinds of attacks he'll be subjected to, that's not a bad starting point. With experience he'll probably loosen up and become more forceful.
Mmmm, now I'm not so sure.
True, some of the positions in what the party rather pretentiously calls its Manifesto are strong and unhedged, for instance: "There will be only one law in Britain, British law. There will be no toleration of alternative law systems such as Sharia Law." And: "The British Freedom Party will return democracy to Britain by: 1. Withdrawing from the European Union. 2. Devolving decision-making power down to the lowest practicable level. 3. Abolishing restrictions on free speech."
But the more you look into Weston's positions, the less sturdy they seem. Just when absolute candor and steadiness are called for, he starts doing the shimmy.
In an
interview
with Weston published at Gates of Vienna, his nerves get the better of him. He wants to oppose what he continually calls "political correctness" -- itself a wimpy term for anti-white discrimination and population replacement -- but still be respectable:
impossible
in present-day Britain.
| | | | | |
| --- | --- | --- | --- | --- |
| PW: | | We're getting our name out into the mainstream media. We had a piece in The Independent on us. It wasn't very friendly of course, but it still gets your name out there. People are gradually starting to hear about us, so it's not bad. | | |
Spoken like a corporate brand manager, not a leader the Resistance can rally around.
| | | |
| --- | --- | --- |
| ES: | | I guess one complaint might be that there are just a lot of these parties out there. So, how is British Freedom different from say UKIP, the Conservatives, the BNP, etc.? |
| PW: | | Well, let's start with the BNP. The BNP are still ethno-nationalists. The world has moved on. I don't think they're going to get anywhere with that sort of attitude. England, Britain is as it is; you are never going to turn it back to 1950. You can of course say 'alright, we are going to be a multiracial country but we don't have to be a multi-cultural country.' And, of course you can't have both of those; that's a recipe for a disaster. Multiracial and British culture; that can work. So that's the difference between us and the BNP. |
It sounds like the same old assimilationist rubbish that hasn't worked and can't work. Immigrants from anywhere in the world and any race are fine as long as they adopt "British culture"? What British culture is left to assimilate to in places like London, where half the population is from Timbuktu and Pakistan?

With a sprinkling of immigrants from anywhere it doesn't matter that much if they don't assimilate into what is a foreign culture to them; when you have instead mass immigration, you get colonies. Colonies don't assimilate. And that isn't being insulting to colonists, it's just recognizing human nature. Colonies of Americans in Mexico and Panama don't become Mexicans and Panamanians.
I seem to remember years ago writing a blog post poking fun at an official scheme to make immigrants take some kind of test of "Britishness." ("Which of the following is meant by 'Queen'? A. A football club. B. A seventies rock band. C. A traditional British dessert. D. A flamboyant homosexual. Choose three.")
| | | |
| --- | --- | --- |
| PW: | | We want to counteract the spread of fundamentalist Islam. We want to stop immigration for a period of years. We want to repair the damage done to the education system. Tackle crime. And we want to promote British values and culture, and introduce a US style first amendment guaranteeing Free Speech. |
Ah, yes. Britain needs moderate Muslims, extremists not so much. The politician's favorite crutch, Tough on crime.
I think for a five year period you have to say 'listen, there is no immigration into this country.' And the reason for that is we are in such a terrible state over here. We don't know how many people come in a year; how many people leave a year; how many people are illegal immigrants; how many people are genuine [foreign] students. So, we need a period of time to really sort out exactly who's here, and who shouldn't be here.
Paul, old chap, your politicians and bureaucracy have had 30 years to sort out how many people arrive every year, how many illegal immigrants, who are the genuine students. You don't need a time out for that; you need the motivation to do it. A five-year moratorium won't make the ruling multi-cultural theocracy do something it has never wanted to do.
It's too late for mushy "we need to have a conversation" talk. You and many of your fellow British know perfectly well who shouldn't be there. Your oppressors believe
they
don't need to bother having a conversation with
you
.
* * *
Weston and members of his party have their hearts in the right place. But they're trying to square the circle. They want to accommodate themselves to a system that is essentially tyrannical while pretending to be part of a mainstream that is about anything but freedom. As they say over there, "Best of British luck to you."