I thought my fascination with the paintings of John Atkinson Grimshaw (1836-1893) was yet another of my eccentricities. But it looks like, despite his love for picturing the effects of night and twilight, Grimshaw's day has come.
Recently I began noticing CD covers based on Grimshaw's artwork, as well as its appearance in Web sites about art and Victoriana. A little casual research turned up the information that "today his oil paintings fetch up to £500,000," according to a
story
in
The Mail
, which adds that -- sadly -- "towards 1876 Grimshaw suffered a mysterious financial disaster forcing him to leave his palatial surroundings and settle with a studio in Chelsea, London."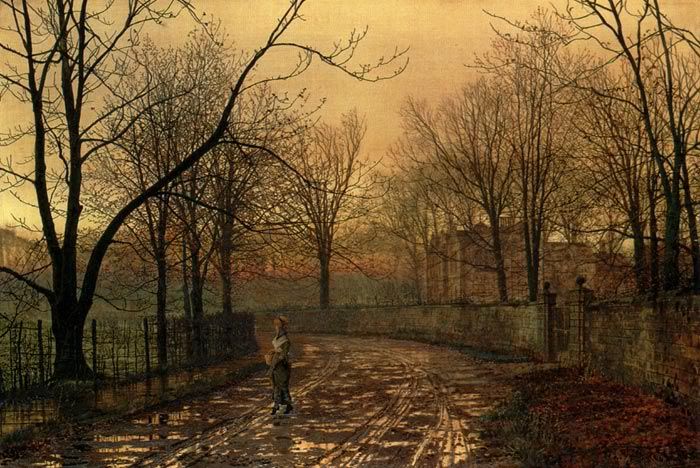 Grimshaw was contemporaneous with the Impressionists in France and the luminist school in the United States. He shared their attraction to mood and atmosphere, but was particularly drawn to fantastical half-lights, fog, and the gleam of moist surfaces. The draftsmanship is detailed and fine -- for all his dreamlike visionary impulses, there was still enough in him of the commonsense, roast-beef-and-pudding Englishman to insist on the importance of structure, architecture.