Chicago? No, London.
It's called "The Shard." Apparently that isn't even a nickname, like
"The Gherkin,"
but the official name chosen by the developer.
Once completed, this building will have a total of 72 floors. Including the enormous spire at the top, it will stand 310 meters (1,017 feet) high. Even in its unfinished state, it's the tallest building in Western Europe, jutting toward the sky like a glass wedge with sharp contours. The building is certainly no beauty, and its silhouette seems confident, almost arrogant. Even its name sounds aggressive: the Shard.
... The Shard -- essentially London's first genuine skyscraper, has broken a taboo. It's the first building to alter the city's character, one that shrinks the old Roman city of London down to a picturesque stage set.
Well said. And doubtless the diminishing few of London's population who care about architectural tradition are consumed with futile regret about this blatantly rude, egotistical new building.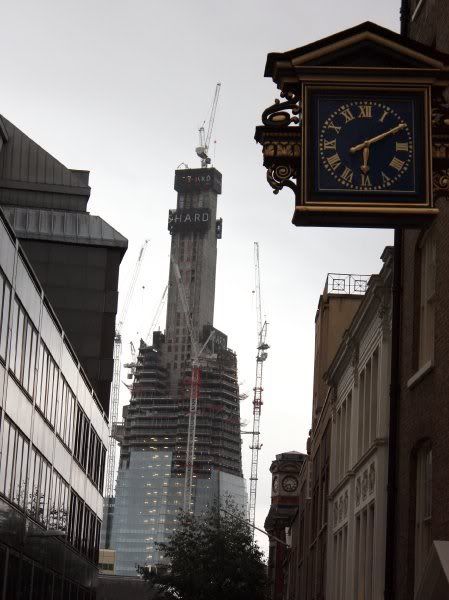 Yet their aesthetic sensitivity does them no honor. Most of those whingeing about The Shard weren't bothered about the more important perversion of London's character. What had been an English city was transformed by their rulers into the nest of an international financial plutocracy side by side with millions of ethnic proles hailing from every Third World country from Jamaica to Pakistan. I'd bet many an elite architectural preservationist was, and is, also an ardent champion of cultural Marxism.
What they did not understand was that the traditional look and feel of London derived from a particular culture with its own values, which took pride in English roots. Destroy that culture, as they have so fervently cooperated in doing, and London is no different from Chicago or Lagos.
The Shard is simply the outpicturing of inner changes that have erased English roots in favor of globalism at the top of society and Third World masses at the bottom. It is truly a Tower of Babel.