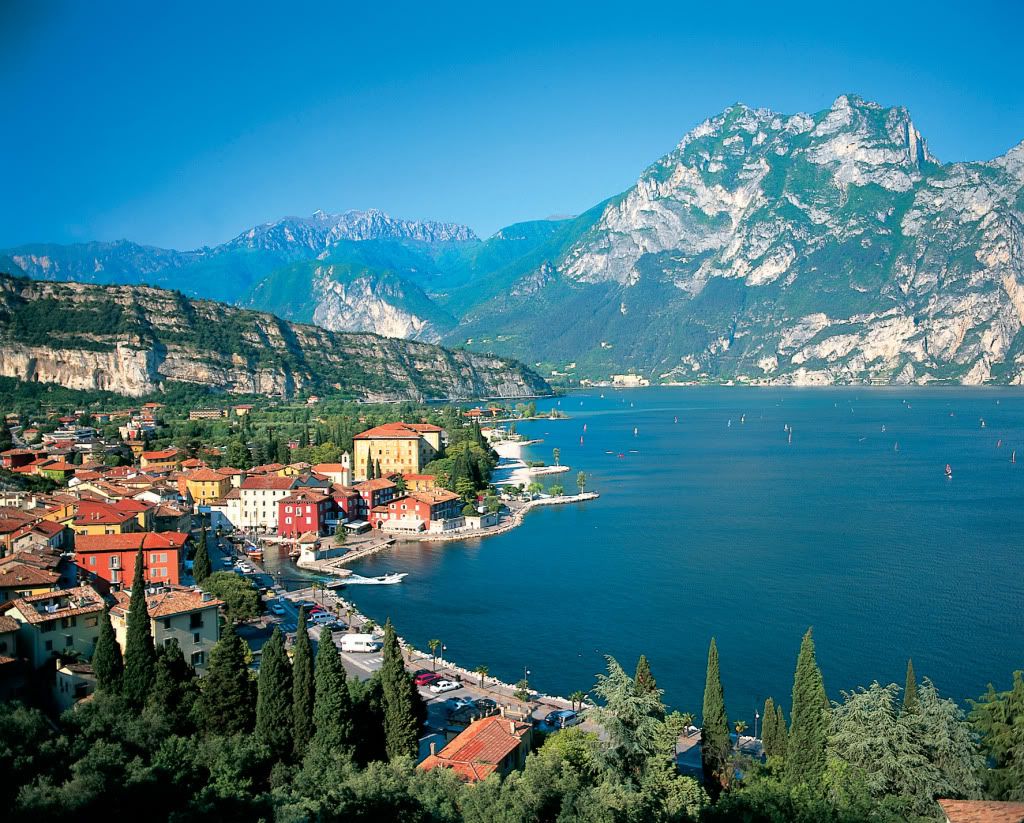 What is it about large lakes clasped by
mountains that brings up in us feelings we can't fully explain, which the 19th century romantics called "the sublime"? Is it the effect, in a single vista, of three of the four "elements" (earth, air, water) in no small measure? Whatever -- Lake Garda, northwest of Verona, like its near neighbor Lake Como, have attracted the rich and artistic since ancient times.
We arrived in Sirmione, at the southern end of Lake Garda, shortly before sundown. Once we got past the parking hassle that is typical of Italy, Sirmione quickly proved entrancing. It has a medieval castle on the water's margin, well maintained period houses, churches, and commercial areas. A good place to stroll, especially as dusk lowers its shade and Garda becomes a field of diamonds sparkling on purple velvet.
Catullus, the Roman poet, had a villa here. There is an archeological dig that is recovering its remains, which can be visited, although we didn't because of the lateness of the hour. The location must have appealed strongly to Catullus's finer sensibilities; this is a long way from Rome, many days' journey in his time. That he felt safe in traveling to this remote place and living here shows just how secure its citizens felt under the Roman Empire in its early years.
I was pleased to see that Sirmione has a Hotel Catulle. As a would-be classicist, I like to see modern commercial enterprises that know their history. In Rome, on a previous trip, we stayed at the Mecenate Palace hotel, named after Maecenas, Augustus's associate and patron of the arts, on the Esquiline Hill where Maecenas had his house and grounds.
Earlier in the day we drove up the western side of Lake Garda, which has been beautified with various non-native subtropical plants like oleander and bougainvillea. It resembled southern California in places. We passed through the famous resort town of Saló, which must have been cracking in its day: fine old mansions, gracious-looking hotels, exuberant public buildings, monuments, and spaces. I imagine it hit its peak just before the Great War.
It's still attractive, but unlike Sirmione -- where, I would guess, its very rich residents have imposed restrictions on new construction -- Saló and environs are sadly overdeveloped. It's the usual syndrome in ritzy places where money overcomes aesthetics. Large, flossy new hotels, luxury apartment buildings, shopping malls, high-end car dealerships. They can't quite overcome the charm of the area and haven't completely blocked the views of Lake Garda, but they make you heartsick for the loss of the atmosphere of tranquil refinement it surely once had.


At Gardone Riviera, just north of Saló, we paid a visit to the Vittoriale degli Italiani, the strange mansion that was home from 1922 to his death in 1938 of Gabriele d'Annunzio, the eccentric novelist, poet, playwright, pilot, lover of actress Eleanora Duse, and for a few years leader of his own army. I haven't read any d'Annunzio, although I have an old copy of his novel
The Flame of Life
that I picked up at a garage sale in Tucson and will get around to one of these days.
The Vittoriale fully met my expectations for being over the top. Guidebook writers are invariably condescending about the place, letting you know of their own superior taste by putting down that of d'Annunzio. Well, it is something of a madhouse, filled to overflowing with ornate exotica. After d'Annunzio survived a murder attempt (he was thrown out of a high window, possibly by Mussolini's thugs because
Il Duce
was afraid d'Annunzio might be a more popular political rival), he turned the Vittoriale into his surrealistic retreat.
Almost no natural lighting slips inside because d'Annunzio had an ocular condition that made sunlight painful. The rooms are mostly surprisingly small, made more confining by the profusion of decor, and you have to duck to get through some of the doors. There are two waiting rooms with separate entrances: one for people he wanted to see, another for those he didn't.
As for all that "tasteless" accumulation of
objets d'art
-- yes, it's overwhelming, lily gilding, sometimes garish. But individually, the pieces are often lovely and unusual; the furnishings archaic and unique. Whatever his character failings (it's still debated whether he was a prototype of Mussolini), you can't visit the Vittoriale without acknowledging that he was strongly driven by his muse. He loved objects that appealed to his artistic sense, so much that he couldn't, apparently, bear to part with any of them even when they turned his home into a dreamlike museum.
One of the many half-lit rooms contains a tiny bed. D'Annunzio left instructions that his body be placed here for a day after he died, on the bed he called "something like a cradle, something like a coffin."