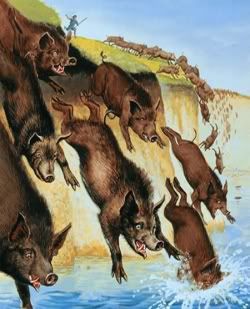 The earthquake was a horror for Haitians, but for the Left in the United States it's almost all silver lining.
What an opportunity for moral exhibitionism!
Former president Bill Clinton will travel Monday to Haiti to deliver emergency relief supplies and meet with the country's leaders, his foundation's office said Sunday.

Clinton will meet with President Rene Preval and other members of the Haitian government, as well as visit with those assisting in the earthquake relief effort, the foundation said.
Clinton must believe that he has the power to heal, not by touch (as kings of old were said to have), but merely by his presence.
But at least he is so far performing his magic act
in situ
. The next stage will be an answered prayer for the Left in its desire to remake the United States as an oligarchy of transnational progressives ruling a society of poor, dysfunctional, easily manipulated peasants. We will bring Haiti here.
In preparation for a possible mass migration of Haitians, local Red Cross officials are dusting off old disaster plans used when the U.S. allowed mass migration of refugees from Bosnia and Kosovo in the 1990s.

"It's something that we as a country have done before, so it's not new," said Becky Sebren, director of emergency services for the Mid- Florida regional chapter of the Red Cross. ...

At the Hope CommUnity Center in Apopka, whose founders have long worked with the immigrant community, Sister Ann Kendrick said, "We'll do whatever we need to do. If they send children, we'll find families."

She witnessed the community open its doors and hearts to desperate people before — notably, in 1980 during the Mariel boatlift from Cuba, when 125,000 people came to Florida.

"My experience was that it was the poor, immigrant families who made room," Kendrick said. "They have nothing — but they have a generosity of spirit. … And if we need to, we'll put up cots here at the community center. We have a kitchen here. I mean, we'll do anything."

Since when is immigration policy decided by the Red Cross and the Catholic Church? It is supposed to be determined by Congress -- not that I expect any of that bunch would have the courage to stand up to a humanitarian invasion.

The pretext is "the federal government's plan to repatriate the 45,000 American citizens who were living in Haiti at the time of the earthquake." It is hard to believe that 45,000 Americans have chosen to live in dirt-poor, crime-ridden Haiti, but depend on it that no one in the leftist mainstream media will question the number. In any case, those 45,000 supposed citizens will be the thin end of the wedge.
Since Haiti has for generations been a failed state, our latest venture in nation building will inevitably bog down in corruption and incompetence. Voices will be raised to insist that the only way to "save" Haiti is to hand its inhabitants a get-out-of-Hell-free card.
Chris Roach, at Mansizedtarget, observes:
... Our desire to help must be tempered by our responsibility to our countrymen to maintain an orderly, safe, and prosperous country. It also must be tempered by some recognition that Haiti's bad circumstances are not caused by the earthquake, but rather are exacerbated by the earthquake; the conditions that made the earthquake so bad stem from the characteristics of the Haitian people and the unique characteristics of Haitian society.
It is not simply people we will be offering a place to, but their cultural characteristics: lack of skills and self-reliance, superstitions (think voodoo), and what will undoubtedly be for many a permanent need for welfare assistance. The Social Work Establishment must be salivating at the thought of a whole new "underserved" clientele. The Liberal Establishment is surely licking its chops at the thought of another servile population for their plantation.
Roach adds:
We no more have to take these forlorn Haitians into our homeland to show our compassion than we have to take real life, often self-destructive, homeless people into our real life homes. But that's what Obama and company want Florida to do for Haiti: a gesture stemming from a perfect storm of liberal compassion, the opportunity to show a "lack of racism," indifference to America's working class, and the cultivation of a political constituency through specialized immigration policy. This is going to be bad and especially bad for Florida.
But Obama and his fellow graduates of the Alinsky School of Marxist Infiltration think we deserve it because we are such a bad nation. Like Jesus with the Gadarene swine, he wants to drive the national evil into middle- and working-class Americans and send them over the cliff. As his handler said, never let a crisis go to waste.