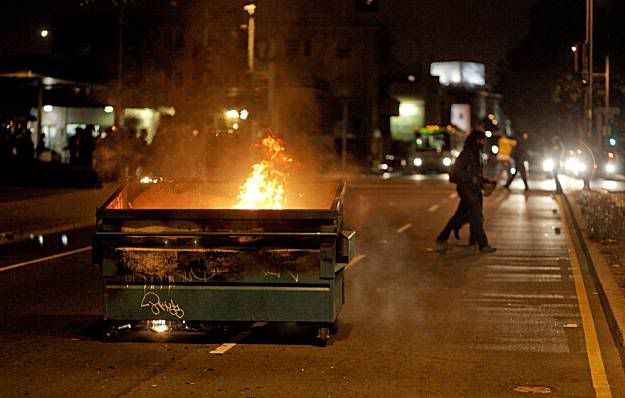 I am here today to speak to you about a grave threat to civil order. I speak of the so-called Tea Partyers, a mob of rabid white grievance nursers ready at any time to boil over into rioting. Our intelligence services have reliably reported that the Tea Partyers do not "look like America" and include a number of ex-military personnel. Let no one underestimate the danger of
this fascist, racist, sexist, homophobic, Islamophobic, germ-ridden, uncontrollable mob. Be on guard.
In other news …
After dark, mobs form, smash windows, loot
(07-08) 23:33 PDT OAKLAND -- There was outrage, there was looting and there were skirmishes between police and protesters, but that wasn't the whole story of how Oakland reacted to the Johannes Mehserle verdict. …

Sporadic conflicts were quelled quickly early in the evening, but by late night at least 50 people - and maybe as many as 100 - had been arrested as small groups smashed windows, looted businesses and set trash bins on fire.

The violence was contained for much of the early evening within a one-block area near City Hall by an army of police officers in riot gear, but around 10 p.m. a knot of rioters broke loose and headed north on Broadway toward 22nd Street with police in pursuit. They smashed windows of shops including the trendy Ozumo restaurant, and one building was spray painted with the words, "Say no to work. Say yes to looting."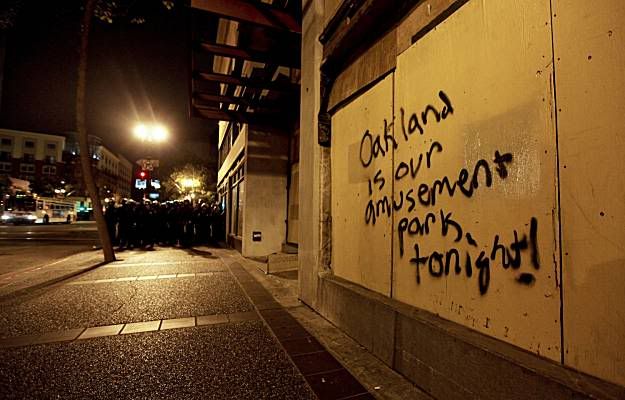 One group tore through the metal gate protecting a Footlocker shoe store on Broadway near 14th Street, shattered a window and emptied the shelves. Soon there were shoe boxes on the street.

Afterward, the group moved across the street and smashed a window at the Far East National Bank building and rampaged inside. Graffiti was sprayed on the bank wall reading "Riot for Oscar." Up and down Broadway within the police lines, skirmishes broke out between officers and small groups of protesters, some wearing black face paint.
They were in blackface? Racists!!!!!!