U.N. Economic Commission for Africa
For an hour ... for a day ... for a lifetime.
The economy got you in a head lock? Join the club. For those of us downsizing our vacations this year, and that includes your blogger, the
L.A. Times
has kindly clued us in on
"The world's least expensive cities.
"
They are bog cheap because their countries' economies are in worse shape than ours. Much worse. And there are other reasons the local tourism commissions take long lunch hours.
As the
Times
notes, "
Because some of these places are off the beaten path, do some extra research before you go. Call a travel agent, go to the State Department travel advisory website for warnings, and consult guidebooks and websites."


Now, this is a charmer. A Romanesque-Gothic-Dutch revival church in a lovely setting that extends all the way to the photo margins. Who wouldn't want to gambol in this idyllic spot? Only thing is, you'll have to gamble to gambol. According to the story, "
With crime on the rise, the State Department encourages travelers to 'employ common-sense preventive measures' such as avoiding isolated areas and safeguarding purses, wallets and cellphones."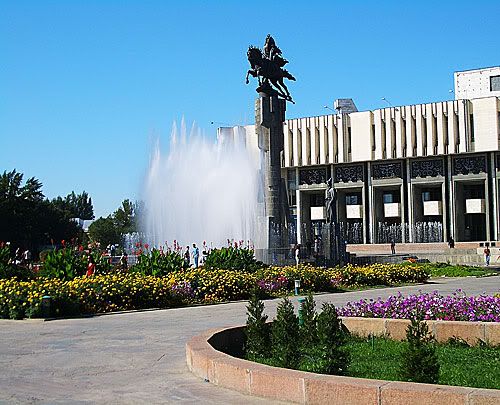 Bishkek, Kyrgyzstan
If you can't make it to Lenin's Tomb in Red Square, here's an alternative that will please the whole family and still leave a few bucks in your pocket for McDonald's.
"A statue of Vladimir Lenin and the Kyrgyz White House, built as the headquarters of the Communist Party's Central Committee in 1985, are among the top tourist attractions." Don't neglect the home of the Bishkek Philharmonic, above, with its updated facade following the latest bomb attack. Drums are banned from the orchestra lest the noise frighten jumpy audience members; percussionists hum the drumbeats written in the score.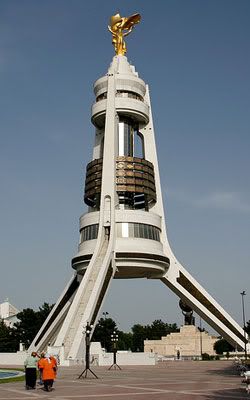 The Winged Victory of
Ashkhabad, Turkmenistan
"With the country becoming very oil and natural gas rich, especially in the 1950s and eventually peaking in the 1970s, the government focused more money on tourism, particularly hotels, palaces and fountains. The city also boasts one of the tallest free-standing flagpoles in the world." Unfortunately, no one is sure what flag to run up the flagpole, or whether to salute.



La Paz, Bolivia
"Those with weak stomachs may want to avoid the Witches' Market, as they may see some bizarre and possibly disturbing wares, such as dried frogs and llama fetuses." Uh, I'm sure it's the best price I'll find anywhere in town, but ... do you have any nice baskets?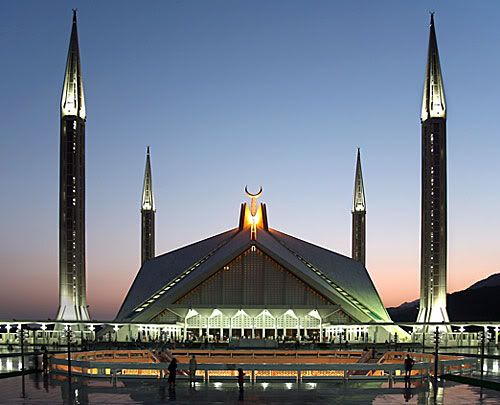 Why travel to far-off places for a budget vacation? In a few years you will be able to visit this mosque (capacity: 300,000) in lower Manhattan. You can catch a revival of
Hair
on Broadway in the same day!