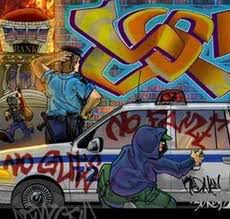 They take graffiti seriously in Singapore. Very seriously.
A Singapore court on Wednesday extended a jail term for a Swiss man by two months to seven and maintained an earlier ruling that he receives three strokes of the cane for trespassing and spray-painting graffiti on a train. …

"It is conduct which is entirely unacceptable in Singapore, regardless of the artistic merit (or lack thereof) of the graffiti," the judge said in a written statement.
Singapore is, of course, famous for hanging drug dealers, fining litterers and outlawing chewing gum. I don't want to think about the penalty for littering while chewing gum.
Like almost everyone raised in a modern Western society, I cringe a little when reading about stuff like that. Inhumane. Disproportionate.
It results in what I understand (never having been there) is a safe, spotless city-state. At too high a cost in regimentation and sterility, though.
Nevertheless, in some twisted part of my being, I get a thrill out of the thought of a graffiti "artist" being whacked with a cane on the backside where his brains are located. Graffiti is — are? — an eyesore in parts of American cities, and it's worse (worse, I tell you!) in Europe. Highway overpasses are one thing, but to see centuries-old, architecturally magnificent buildings covered with cretinous scrawls all around the ground floor enrages me.

In Italian cities, full of historic buildings, sometimes the only one not vandalized is the Questura (police) headquarters. Occasionally a brave graffitist will even leave his tag there.
Young people go through a normal rebellious stage, and up to a point we need to be understanding and tolerant. But I have read that graffiti painters are mostly gang members who belong to a sort of guild, even traveling from city to city to leave their handiwork. That isn't animal spirits. It's an anti-social declaration of war against civic order and beauty.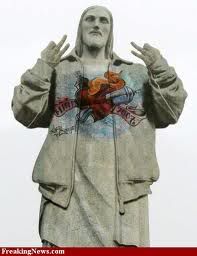 Are there worse things to be concerned about? Sure, but some of the worse things have their roots in egotistic behavior of the graffitists. The "broken windows" model of social breakdown: a sign that the bond between citizens and their environment has snapped. Cities, like people, can lose their self-respect, allow themselves to be abused. And that leads to further abuse.
Perhaps because Singapore is the world's only important remaining city-state, it won't put up with degrading the stage whereon its life is enacted. Does it make its point too harshly? Yes, I think so. But at least it makes the point. I wish more places did.