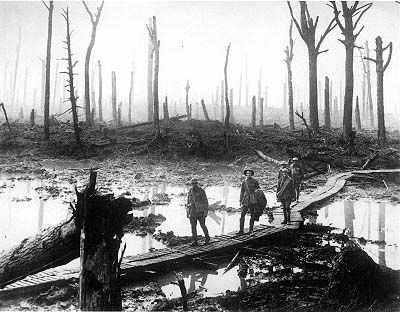 Verdun, 1916. The battle that lasted 10 months, the longest of any engagement in recorded history. It took place in a few square miles of poxy mudscape in northeastern France. The French and German armies took, lost, re-took, re-lost, again and again a few hills around a French outpost called Fort Douaumont.
Neither side could win. Neither side could back down. Today, the ground contains more than 100,000
unknown
soldiers, not to mention those whose remains have been identified. For decades after, shell casings, bayonets, helmets ... bones turned up when farmers plowed the poor soil. Possibly they still do today.
Why do I bring this ghastly episode up?
As I fear, the conflict over the Ground Zero mosque is shaping up as the modern equivalent of Verdun. No, there will not be soldiers on the field, although in a metaphorical sense this may be where the armies of the Western world and Islam face one another.
It looks now like both sides are going to take a stand over territory, and neither will back off.
As I said previously, territory is the wrong thing to contest. We should be arguing over Muslim immigration, not where they want to build Fort Cordova. But for now territory is the issue.
Today, New York's overbearing, blowhard mayor, Michael Bloomberg, dug in his heels.
... He observed that "there are people of every faith–including, perhaps, some in this room–who are hoping that a compromise will end the debate."

"But it won't," he said.

The community center can and must be built at the Park51 site, he said. Anything less would "compromise our commitment to fighting terror with freedom."
This is astonishing. It goes beyond, way beyond, expressing a view. We -- the little people, formerly known as the public -- have no choice. It is not ours to decide. The mosque will be built over our American dead bodies. The Powers have spoken.
No compromise. Not giving in to Islam would limit our "commitment to fighting terror with freedom." The freedom to obey our masters.
I've had to revise downward, way down, my views of what Americans will tolerate. There is obviously a large dhimmi contingent, and a larger portion of my countrymen who don't care about anything except the economy.
But still, I don't think the United States of America will surrender to its ruling class and their obedient servants in the mass media on a Ground Zero mosque.
This looks like a standoff. This looks like a battle with fearful losses to come on both sides. This looks like Verdun.