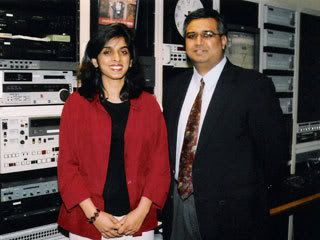 Mr. and Mrs. Hassan,
overcoming Muslim stereotypes
It is most unfortunate that Mr.
Muzzammil Hassan finds himself in a spot of bother. It was his privilege to have "
founded Bridges TV in November 2004 to counter anti-Islam stereotypes
."
Hassan touted the network as the "first-ever full-time home for American Muslims," according to a press release.

"Every day on television we are barraged by stories of a 'Muslim extremist, militant, terrorist, or insurgent,'" Hassan said in the 2004 release. "But the stories that are missing are the countless stories of Muslim tolerance, progress, diversity, service and excellence that Bridges TV hopes to tell."
Moderate Muslim

The message of the Religion of Peace was going full blast — er, rather, was making great gains — until just the other day. It seems that Mrs. Hassan was doing the unthinkable amid the tolerance, progress, diversity, etc. by starting divorce proceedings. One morning recently she woke up and could not locate her head. The police have charged Mr. Hassan with relieving her of it.
Mr. Hassan's present inconvenience would no doubt have been a trifling matter in Saudi, where he raised the lolly to put his network on the air. "Sorry, Sheik, but can you believe she wanted a
divorce
? It was a matter of honor." "Of course, of course, Muzzi. I'll put in a word with my uncle and my cousin will deal with the press. Take a vacation, why not. You need to recover from the great injury you have suffered."

It was also Mr. Hassan's malfortune that sharia law is still on the back burner in New York, while President for Life Obama has a few economic issues to sort before he can turn to the more important changes. Our entrepreneur might also have been luckier had he started his TV network in the U.K., where the Archloon of Canterbury recently said the country was coming around to his view that sharia law should be included in the country's legal system.



Had he only been a scrap more patient, he might have operated — uh, wrong word again — made his feelings known to his wife under sharia law in the United States. Just ask CAIR: they'll tell you it's coming. Mr. Hassan could have saved himself his current troubles, and simply reported his wife as a capital loss on Schedule D.