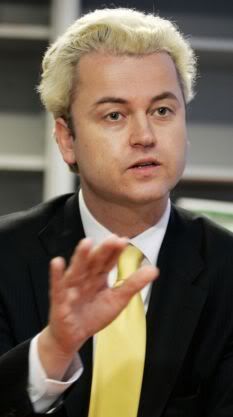 Geert Wilders has announced that he intends to fly to London tomorrow, despite a Home Office warning that he — a member of the Dutch parliament — will not be admitted.
In the world of diplomacy, such an act would be nearly equivalent to a declaration of war. But of course Britain's rulers — no milder word fits the case: U.K. citizens are virtually powerless against their own government and the E.U. —
are
at war against Wilders.

They have sided with the jihad preachers in their own population, against a brave man who refuses to accept the ever-advancing state of Eurabia. As Lawrence Auster writes, "If the exclusion from Britain of an elected member of the Dutch Parliament stands, that would be a definite sign that Britain has passed the threshold from a left-liberal regime to one that is simply and frankly leftist and anti-Western."
How are the British papers that matter playing the Wilders issue, which is almost impossible to exaggerate as symbolic of the Establishment's fawning over Muslims?
As of this writing, the supposedly conservative
Telegraph
has nothing about it on the home page, although it has room for a link to an article headlined "India makes cola from cow urine." Neither does the left-wing
Guardian
, although you can learn there about "Valentine's dates with a difference: Forget candlelit dinners. This year, try a scratch-and-sniff cinema or formaldehyde dodos."


The new tabloid, comic-book version of the once-respectable
Times
reports, "A far-right Dutch politician will attempt to defy a government ban on his entering the UK tomorrow, amid a diplomatic row over his right to visit." (Shouldn't that be "far-right to visit"? Someone who makes a film quoting the Koran and is intemperate enough to suggest that its hateful verses actually mean what they say can't be called "far-right" often enough.) The
Times
also describes Wilders as "an outspoken anti-Islamist."
The Home Office's decision yesterday to refuse Mr Wilders entry on account of his extreme views provoked Maxime Verhagen, the Dutch Foreign Secretary to call David Miliband to protest at the decision.

So, we are to take it that in the
Times
writer's mind, being an outspoken anti-Islamist constitutes having "extreme views."
Not only are the British rulers cowardly in bowing to pressure from the the most intolerant among the Muslims they have so determinedly recruited for their country, but they have been handily outfoxed.



By accepting the dare, Wilders has already won. If the British government backs down, it will be a victory for free speech and for Britons who aren't ready to accept dhimmitude. If they actually are foolish enough to arrest him, it will be a
cause célèbre
generating far more publicity and sympathy for Wilders's cause than if they'd just let him in without a fuss — and, to boot, it will show the world how far the appeasement mentality has taken hold in Whitehall.