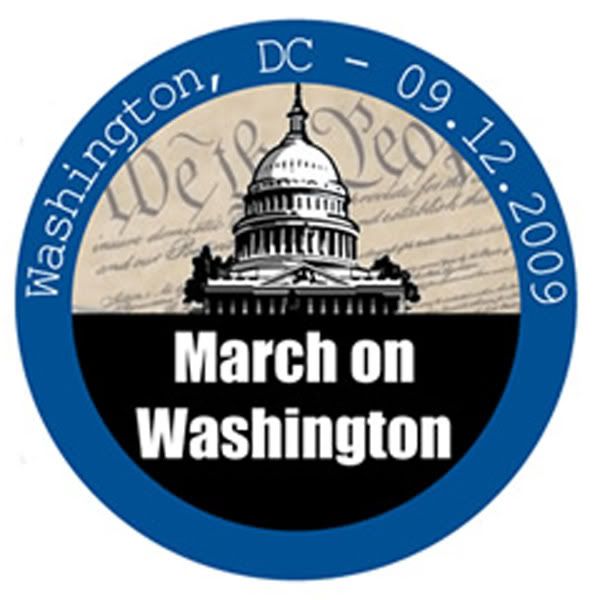 It was important to be there. Still, I have to confess I wasn't especially looking forward to it. I dislike crowds, speeches, the public transportation I would need to get there. I wasn't even entirely sure of the sponsors or their

bona fides

.

My concerns about the journey on the Washington area Metro were fully justified. Metro management didn't have sense enough to run more trains because of the expected large jump in ridership or to suspend maintenance work for the day, which caused hundreds of people packed into each train to become rather too intimate with one another during long stationary periods. But hey, the Metro functionaries were government workers. They were in charge, we were at their mercy. Not a bad illustration of what government-run health care would be like.




Once out of the underground purgatory and joining the other pilgrims at the beginning of the walk down Pennsylvania Avenue to the Capitol grounds, my spirits lifted. There was no doubt that this was a big deal. Because of the delay, the march had already started, but new participants were materializing at the starting point. Many wore patriotic-styled costumes, and/or were carrying flags ("Don't Tread on Me" was popular), banners and signs. I felt a little embarrassed dressed in ordinary clothes, as if I were letting the side down.

I guess it was about a mile to the Capitol, along the wide avenue empty of traffic except for police and emergency vehicles, and there were no gaps in the stream of participants heading toward that majestic dome visible at the far end. This part of Pennsylvania Avenue is lined mostly with dignified, or at least large and imposing, buildings: the old Romanesque revival Post Office, the Federal Trade Commission, the brutalist modern FBI building, the Greek temple Archives, the National Gallery.

As we neared the Canadian embassy, a piece of clumsy modernism that looks like it was designed by a committee (perfect symbol of a country with no widely shared identity), I saw observers on its roof. What, I wondered, would these Canadians think as they watched the thousands walk by to protest, among other things, the proposed national health scheme -- much like the one they profess to hold dear? But when I got closer I could see they were security guards, ubiquitous in Washington.



There was
a palpable camaraderie
among the marchers. Despite the
signs
many carried expressing anger, their mood was upbeat. Lots of meeting-and-greeting as people spotted others from their home state. I stopped periodically to write down some of the messages on signs, mostly handmade, people were carrying:


Beware of governments bearing gifts.
Government health care = a sick idea.
Go green: recycle Congress.
Obamacare is a grave mistake.
Shovel-ready project: Obamacare R.I.P.
Don't tell Obama what comes after a trillion.
I was tired of yelling at my TV, so here I am.
No money left to make a sign.

Arriving at the area near the west front of the Capitol, I looked around at the numbers who had already settled in. I'm not sure I have ever seen so many people in one vista. The mainstream media will almost surely mis-underestimate the size of the crowd -- they'll probably settle on a number like 10,000 which they'll copy from one another -- but I'm here to tell you it was a far greater figure. It's almost impossible to say what the accurate measure was, but the huge Capitol lawn was filled, the parking lot behind that was filled, there were people all around the huge pool.



The crowd was so dense that it was hard to get close enough to the speakers to hear what they were saying, even with amplification. I gradually made my way forward and listened to a half dozen or so speeches. One or two, by members of the organizers, were rousing in part; others were standard talking points. Dick Armey was suffocatingly dull.

Mostly, though, I just wandered around the gathering to see what kind of people had shown up (from every state in the union, a speaker said). At this moment, I expect an Obama coat-holder columnist is sitting in front of a monitor (just as I am) and writing that the tea partyers weren't representative, didn't "look like America," were old and -- wait for it -- white. Few blacks and Hispanics were to be seen, they say.

I can't dispute that as a generality. There were people of all ages, but the demographics certainly skewed to 40-plus. They learned American history in school when it was something to be proud of. Most were probably reasonably prosperous; it costs a bomb to fly to Washington, especially if you spend a night or two in a hotel. I saw only a handful of blacks or identifiable Hispanics, which is regrettable.

(But there was a young woman carrying a sign that said: "Latinas can be conservatives too." I made a point of catching her eye and giving her a big smile, which was returned. And I think I will always carry in memory a mental snapshot of a pretty teenage girl wearing a T-shirt decorated with words from the U.S. Constitution in the original 18th-century script.)



Though I go out of my way normally to avoid huge gatherings, this one was as comfortable as any such thing can be. I mentioned some of the waggish slogans earlier, but others were thoughtfully worded and serious. Thomas Jefferson was quoted a lot, as was the Constitution.

How much will this tea party of tea parties influence the political debate? In the short run, I'd guess not much. Few if any Senators and Congressmen were in attendance, and besides, everyone in Washington is used to marches and demonstrations. It gets to be just background noise. But being there surely gave a huge psychological and emotional boost to the participants. They looked around and saw legions of others who were there for the same reason, a connection with what they felt as the essence of America.

For nowhere else on earth could such a gathering happen. Sure, not a day goes by when people aren't waving signs and shouting somewhere in the world, agitating for more benefits, more laws, more guarantees, for their own tribe ruling instead of someone else's tribe. The Tea Party marchers were aiming for a uniquely American goal:

less government, more individual liberty. To take responsibility for themselves, their families, and their country.

Such a large rally for those purposes would be inconceivable in Britain, France, Canada, you name it.


One woman bore a sign that said, "Don't make me come back here next year." I don't want to either, but if we have to, we will. You can set your clock by it.